Meet Henry and his dad Godfrey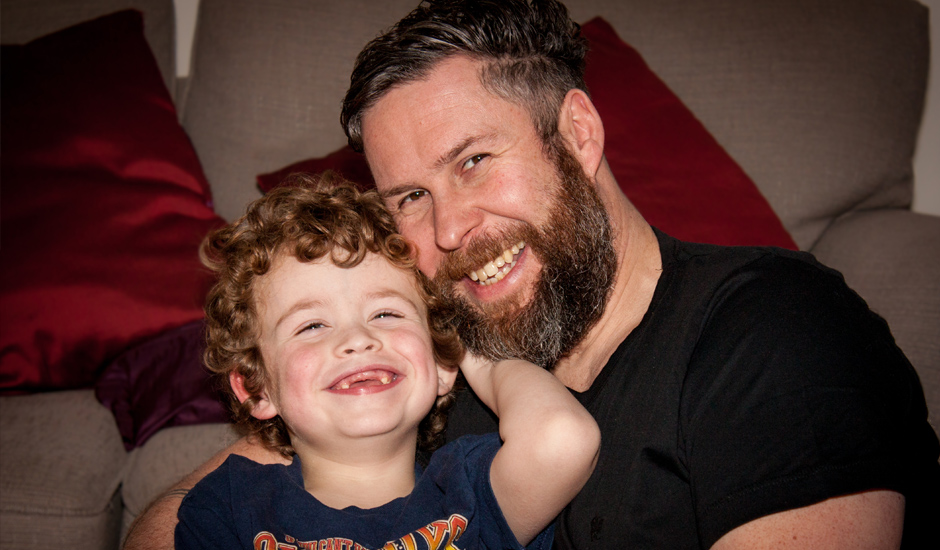 Godfrey works as a manager at Cubitt and West estate agents who have been fundraising for Rainbow Trust since 2006. Godfrey never imagined that one day he would need our support.
Godfrey and his wife Beccy have two boys – Henry, nine, and Thomas, four. Henry, was born with a rare condition called Posterior Urethral Valves which has left him with severe kidney and bladder damage and he is fed through a tube in his stomach. He has had his bladder reconstructed using a part of his bowel and has to be catheterised several times a day. In the future he will need a kidney transplant but for now, he is very happy child.
Meeting Nicki, their Family Support Worker
Godfrey became aware of Rainbow Trust Children's Charity when he attended a fundraising event organised by his company, Cubbit and West. His employer has been supporting Rainbow Trust for over 10 years through various fundraising events and the company fund a full-time Family Support Worker in the Surrey region. Godfrey met Louise, a fundraiser with Rainbow Trust, and they got chatting and the more they talked, they realised that Rainbow Trust could help his family.
So Christina and Nicki, the Surrey Family Support Manager and Family Support Worker, came to their house to meet them, asked questions and agreed they could definitely support Godfrey, Beccy and the boys. That's how Nicki became their Family Support Worker and started to get to know the family.
"Nicki has been on this journey with families hundreds of times and because of that she understands the doctors' jargon, she knows her way around the hospital and she is a dab hand with Nerf gun! It's all these things and more that Nicki does that makes things just a little bit easier for us," says Godfrey.
"Both boys love her. Rainbow Trust's support for the whole family is good because when we're out with the boys, Thomas feels just as involved as Henry, and he needs that. Just having someone who completely understands is amazing."
Dad, Godfrey is preparing to give Henry one of his kidneys
Henry will need a kidney transplant and Godfrey is hoping that he can donate one to his son. In preparation for Henry's operation, Nicki's support for the family will be more important than ever and they'll be glad of the strong relationship that had developed between her and both boys.
"When Godfrey donates a kidney to Henry he will be out of action, I'll be in the hospital with Henry, and Thomas will be floating between people - that is when we'll rely heavily on Nicki"
Godfrey and The Three Amigo's fundraising challenge
This year, to show his support and thanks to Rainbow Trust Children's Charity, Godfrey together with his friends Paul Taylor and Michael Nolan will be taking part in the brutal 'Ride 100', a timed 100 mile race around London and Surrey on 29 July.
Godfrey has set himself an additional '7 Colours of the Rainbow' challenge which involves seven challenges each month in the lead up to 'Ride 100' including becoming a vegetarian for a month and giving up alcohol!
To sponsor Godfrey in his amazing endeavours and help him reach his £10,000 target for Rainbow Trust please visit his justgiving page.
Wishing 'The Three Amigos' lots of luck from everyone at Rainbow Trust Children's Charity.