Different ways you can help
Major donations and support make a significant impact to our work and allow us to reach more families who need us.

Find out more

Gifts in Wills ensures our unique and vital support can continue for many years to come. See how you can help.

Read more

Set up a Tribute Fund to celebrate the life of a loved one or give a regular donation in memory. Find out more.

Give a gift

Your monthly donation is an easy tax-effective way to give to Rainbow Trust, so it costs you less to give more!

Read more
Join our Great Rainbow Bake
Fundraise for Rainbow Trust by baking wonderful creations and asking for donations to help families with a seriously ill child when they need it, now more than ever.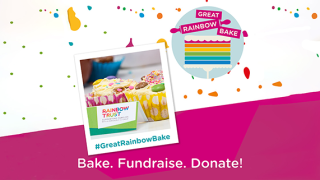 Rainbow Trust at the London Marathon
The London Marathon is always a day to remember. Watch our video and experience it for yourself!
If you would like to be part of the biggest event in our sporting calendar visit our events page and get in touch. If you are successful in the ballot, you can still join our team and help us make a difference to the lives of families with a seriously ill child.
Here's how your money helps
For families

24/7 support for families across the country, from diagnosis and beyond.

For siblings

Emotional support for the brothers and sisters of seriously ill children.

At home

Practical and emotional support to families at home - both in person and virtually.

At hospital

Supporting families with hospital stays, appointments and admissions.

With transport

Providing safe transport to vital medical appointments and hospital visits.
Sign up for our email newsletter
Sign up to receive the latest news and updates from Rainbow Trust by email.
By giving us your email address, you're giving us permission to store your data and email you about our work in accordance with our Privacy Policy. This site is protected by reCAPTCHA and the Google Privacy Policy and Terms of Service apply.