Hayley and Andy are parents to two-year-old Jaxon, and seven-year-old Jessica.

In August 2022, Hayley took Jaxon to A&E as he had croup. He also had a hard stomach; however, he did not seem to be having any symptoms of stomach problems. Upon examination from the doctor at Cumbria A&E, Jaxon was sent for an ultrasound and blood tests. The doctors came back to explain the lump was a mass. It was at this point that Hayley phoned her husband, realising something might be wrong with Jaxon. Later that evening, the doctor and nurse came in to explain to Hayley and Andy that Jaxon had liver cancer.
'My first reaction was "what happens now? When can we start treatment?" But we were told we would have to go to Newcastle hospital as there was no paediatric cancer centre in Cumbria.'
The next morning, Jaxon was transported by ambulance to Newcastle hospital where he immediately was taken to theatre for a liver biopsy and to have a central line fitted.
''The ambulance came at 10am, then we were taken to A&E where the consultant came to speak to us, then the specialist, and then the radiographer. A lot of people came to talk to us, and it was a lot to take in."
A few days later Hayley and Andy had a diagnosis meeting where they were told Jaxon had stage 3 Hepatoblastoma and would immediately need to start chemotherapy the following day. Jaxon began treatment, initially staying in hospital for two weeks.
'He stopped eating and all he did was sleep.'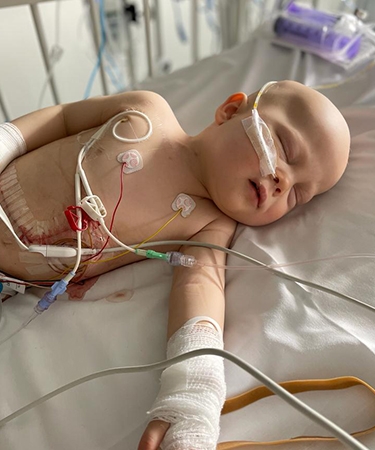 Jaxon got to go home just before his older sister, Jessica's, birthday but had to return to hospital shortly after. He spent his first birthday in hospital receiving treatment.
'We made it the best we could with banners and a cake, but it wasn't what we had planned.'
Specialist doctors decided that Jaxon should have a liver transplant as part of his treatment, so in October, Jaxon went to Leeds for his pre-transplant assessment. Upon receiving results of a last-minute CT scan of Jaxon's lungs, Hayley and Andy were told Jaxon would not be eligible for a transplant as the cancer had become stage 4 and spread to his lungs. They immediately began more chemo a few days later.
'After one round of chemo we were told it wasn't working and there was only one type of new chemo left to try. If that didn't work, then we would have to consider palliative care.'
Because Jaxon's cancer was so rare, his oncology consultant, Gail Halliday, got in contact with specialists from all over the world to see if anyone else could offer treatment that the UK did not. Doctors in America recommended one more type of chemotherapy they could try – ICE chemo. This type of chemo was supposed to work more effectively on Jaxon's type of cancer. After receiving approval to use the new treatment, they began shortly after.
'The first round he had; Jaxon became really poorly. We were hospital for two weeks. He didn't eat, he was covered in a rash, and he was so sleepy and just didn't want to do anything. It was horrible to see.'
'Thankfully, Jaxon was a lot better on his second round of this treatment. Initially the ICE chemo was working, but after his third round, it began to look like it had stopped. Jaxon had to have more MRI and CT scans which would decide what path we would next go down'.
'They thought it would be palliative care, and they were priming us for that. We talked about Jaxon dying and where we would like it to be. We understood how rare Jaxon's cancer was - eight kids a year are diagnosed with this type of cancer - and we wanted to help others. We asked if they could use Jaxon's liver for testing after he had died, and if this could help with research.'
Hayley and Andy were unexpectedly told that Jaxon's AFP levels had come down (an indicator that the chemo was working) and they could carry on with treatment. Jaxon's specialists brought his case to the annual International Medical Conference to discuss his situation and whether he would need a transplant. They instead decided on a liver resection, which is when part of the liver is removed during an operation.
'We went to Leeds and had the liver resection. The surgeon said it couldn't have gone any better and that he thought he had removed most of the tumour – as well as three quarters of his liver.'
Jaxon had to undergo one more round of chemotherapy after his surgery, and he bounced back quickly. He was home with his family within five days. His liver function tests came back as normal, and Jaxon was officially classed as in remission.
Although there is a high chance his cancer will return, exactly a year to the day he was diagnosed, Jaxon rang the bell to celebrate finishing his treatment. He will have regular CT and MRI scans to monitor his condition.
Hayley and Andy were referred to Rainbow Trust in October 2022 by their social worker, after seven-year-old Jessica had behaviour changes at school and her parents felt she needed some extra support.
'Throughout the last year, Jessica has felt isolated and confused. Her behaviour at school and at home changed for the worst and she began displaying lots of attention seeking behaviours. It's understandable that Jessica's behaviour changed with her having so much time away from us, with us having to be in hospital with Jaxon having treatment so often & even when we were at home there was always the risk of having to go back into hospital at any time if Jaxon got a temperature because of the risk of sepsis.'
Family Support Worker, Emma, provides emotional support for the whole family, visits Jaxon in hospital, and provides crucial sibling support for Jessica.
'Emma has been amazing. She comes over and takes Jessica out for special one-to-one time. They go to the park, they've been to the Newcastle United Kids Zone, and lots of sibling days.'
Sibling support provides Jessica a chance to enjoy time focused on her, as well as being able to explore her emotions surrounding her brother's illness.
'I don't know what I would have done without Emma and Rainbow Trust. Even to just ring our Family Support Worker and say 'this has happened or that has happened' is so lovely – it's knowing there is some else there who cares.'
'We have medical support, but this is different. At the hospital there isn't a lot for siblings, and so Rainbow Trust has been such a massive support for Jessica. Without that I don't know what we would have done. I never want it to stop!'
Hayley's advice to other families who might need Rainbow Trust's support would be to 'not worry at all. It will make your life easier and better. Everyone involved has just been fantastic. We have received the best care, from Jaxon's consultants, surgeons and nurses to Young Lives vs Cancer and the support of Rainbow Trust. We owe them everything!'.
Please consider donating to help us support more families like Jaxon's.