Meet Chloe and her family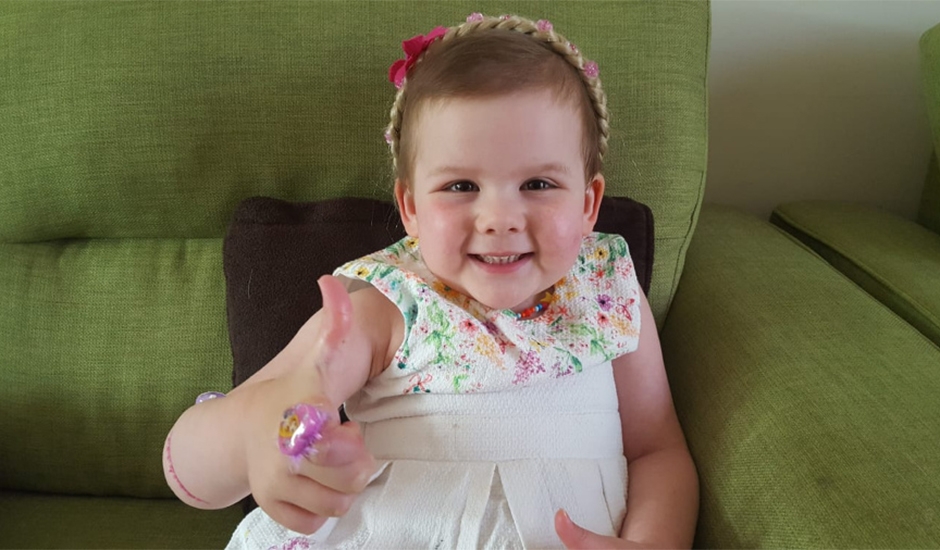 Chloe was diagnosed with leukaemia, a few months before her second birthday and went through gruelling treatment. Here, her dad explains how we have been there to support her family.
"Rainbow Trust was introduced to us "on the circuit" by another family who also have a child with cancer. At the time, our second child was on the way, and we were concerned that we wouldn't be able to manage bringing a baby into the world alongside all the other challenges we were facing. I think we all like to think we have a lot of friends and family around us and that they will be there for us when we need them, but the reality is that support only goes so far. We live quite a distance from most of our friends and family and they all have work and problems of their own to deal with.
"We had very few offers of help or support and most of the people we have discussed our problems with didn't seem to get it. What we've been through has been so traumatic and life-changing for all of us that we just don't think or function like most people do any more and we have a very different outlook on life. It's almost like we live in a different world now.
"The Rainbow Trust team understands that, and they come to meet us in our world rather than try to drag us back to theirs. Jayne has visited us at home, she has driven us to hospital for appointments, we've been to the zoo together and we've even been for walks. She's been a friend to visit Chloe and played games through times when she's not been able to get out and play with other children.
"She's listened to us and discussed our problems and she's made us all feel better about our predicament. When Chloe's little brother was born last year, Jayne helped by taking Chloe to hospital to have her operation that was to take place on the same day. Jayne played with Chloe on the oncology ward while she was waiting for the procedure and held her hand while she was anaesthetised. I don't think we could have done it without Jayne's help and, we'd have had to have delayed the procedure which would have meant her missing out on valuable treatment."
Please donate today, so we can continue to support more families, like Chloe's.