The Matthews family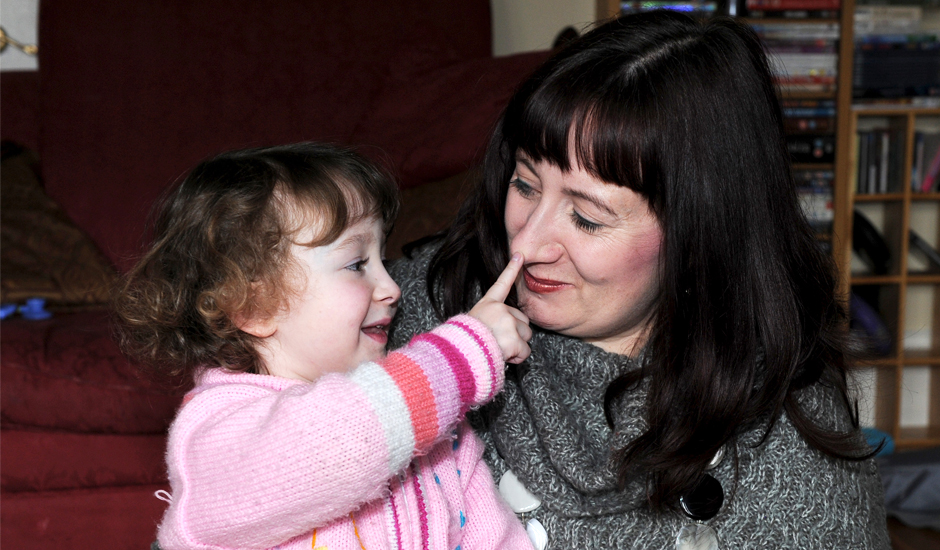 When Jo and her husband Rupert were first told there was something wrong with their unborn baby, they were devastated. At Jo's 20 week pre-natal scan, doctors diagnosed Cleo with hypo plastic left heart syndrome, often called having "half a heart" where the left chamber of her heart was almost non-existent. The prognosis seemed hopeless, like there was no chance whatsoever.
A midwife convinced the couple to get a second opinion, which they requested at Great Ormond Street. They met with a cardiologist and instantly felt like they had more positive options and for the first time felt like surgery was an option. Cleo was born on Thursday 24 March 2011 and three hours after birth was transferred to the cardio intensive care unit at GOSH where she had her first major surgery less than four days later.
"I have to remain positive and I've learnt to forget some of the awful things we had to go through for my sanity. The life that you're thrown into is a world away from the one you've known. I've got to keep her weight up and it's those elements of caring for her when I feel more like a nurse or a carer than her mum. We just want Cleo to have a good quality of life, if she can sit and colour or go outside and ride her bike or scooter, isn't that a good quality of life for a child? It's the operations that worry me, I don't want her to lose the life she has but I can't look too far ahead, we have to take it slowly, one step at a time."
This brave and courageous woman faces each day preparing for every eventuality. She is a mother to two and, although she spends more time with Cleo, she doesn't want Bo to lose out on her love or attention. Rainbow Trust helps her as they support the entire family.
For Jo, life has taken on a new normal, a new normal filled with hospital appointments, protecting Cleo from every sniffle, cold or chill and maintaining her weight all in the hope of keeping her out of hospital. For Jo and Rupert, they are constantly adjusting and not letting it take over completely. Jo has learned to scale back, she works part time around caring for Cleo and Bo. She's also learned to take care of herself amidst all of this –
"If I am not strong enough, I can't take care of my family so I have to look after myself."
We first heard about Rainbow Trust through our community nursing team at our local hospital. Cleo was just three months old and we were preparing for her second open heart surgery when we were introduced to Nicki Phelan, our Family Support Worker. She started visiting us just before Cleo's second operation so Nicki spent time getting to know Cleo and the rest of the family.
Nicki often helps me out at home and spends time with Bo. They get on really well, Bo really likes her. She sometimes collects Bo from school as well if Cleo is having a bad day.
Nicki also helps us with hospital visits. The stress of going to those meetings, knowing what your child will be put through and how stressed she will be is so difficult. The journey to the hospital is always so worrying; it's great to be able to share that with someone. Rupert is self-employed so any time he takes off means lost income for us. And, someone needs to be at home for Bo. Having Nicki there means that Rupert can continue working, I don't have to go to appointments by myself, and Bo is still looked after.
Nicki comes to all appointments with me. She's there when Cleo needs blood taking, she sits with her and calms her down and also listens when doctors are talking about Cleo's condition. Because I'm so close to it, it's good to have a third party there, you can perhaps be a little more objective when she's listening.
Besides practical support, Nicki's also there for me when things become too much. She'll sit with me and just be there when I'm crying. She's there to give me a hug when I need one. The weeks before Cleo's last operation were really tough – Nicki and I would sit in the kitchen together and talk things through. As much as she could, she emotionally prepared me for whatever might happen. Each time your child has an operation you worry that she might die. You need someone to talk to, who knows that, so you don't need to keep saying it.
Now that she's older and has such a great personality, the thought of losing her is so much harder. This little person who brightens my day, I love her company – we are so inextricably intertwined. I am her protector and her crutch and I love her to bits.
Rainbow Trust makes life easier by us knowing that there's someone there who can help you emotionally and practically when times get tough.
Nicki and I get on so well, we've really clicked. We've known Nicki three years now, and the whole family love her. It's good for me to know when Nicki picks Bo up from school, that Bo is looking forward to seeing her and doesn't feel like she's being left with someone she doesn't like. She's been a constant during most of Cleo's life. We've built a really good relationship with her. Few people have been there with us every step of the way but Nicki has seen that 360 degree view of our life and she understands and I know that our conversations are confidential and that means so much to me.
Nicki makes me laugh when I need to and supports me when I need to cry. When you're living with a very sick child you need someone like that in your life.
For Jo, accepting her lot in life is her way of coping. She knows that none of us have any control over our lives. "Focusing on Cleo and making sure she has the best possible life is a massive job in itself. It's changed me, it's focusing on a simple life and what that means to us."
"You've got to have hope. I am continually hoping that things are positive for Cleo."