Meet Kareena and her family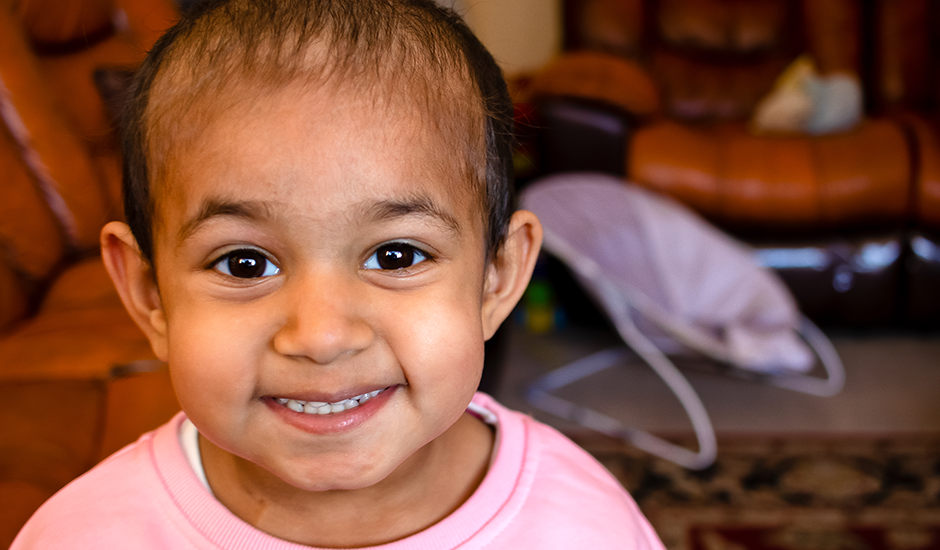 Kareena was just 2 years old when she was diagnosed with a Wilms tumour on her kidney.
Whilst changing her nappy, Kareena's dad noticed a big lump on her upper left-hand side. It didn't look right. She was admitted to hospital and diagnosed with a Wilms tumour.
"My husband was in shock and I was trying to rationalize the situation, it didn't have to be the worse-case scenario, did it? Doctors broke the news that Kareena had a tumour on her kidney, and she was admitted to the Evelina Hospital straight away where she spent the next three weeks."
They started chemotherapy immediately, but there were complications with her treatment which resulted in the removal of her kidney and a further 6 months of chemotherapy.
"After her fourth dose of chemotherapy, Kareena swelled up massively. Doctors told us the tumour was bleeding internally and that it could rupture so they scheduled surgery to remove her kidney. She had so many bags of blood and everything seemed to go wrong. All she wanted was to be held and we couldn't do that, it was heart breaking."
When Kira, Kareena's then ten-month old sister, also developed separation anxiety due to all the time their parents had to spend in hospital with Kareena, a Rainbow Trust Family Support Worker, was introduced to them.

As well as helping with transport to treatment (saving the family £120 a week on taxis) and supporting them throughout long appointments or hospital stints, their Rainbow Trust Family Support Worker also helps by spending time with the children so that Kareena and Kira's parents have some much-needed time to rest or catch up at home. Kareena's mum says:
"From day one, Rainbow Trust has been a godsend. I don't know how else to describe our Family Support Worker, she's just amazing for what she has done for our family. When she knocks on the door, both my girls rush to the door to see her. Rainbow Trust has made the process so much easier for us."

"Rainbow Trust has literally made the process so much easier. Their support has made such a difference to all of us."

This work is only possible thanks to donations from supporters like you. Please donate today.