Meet Kaia and her family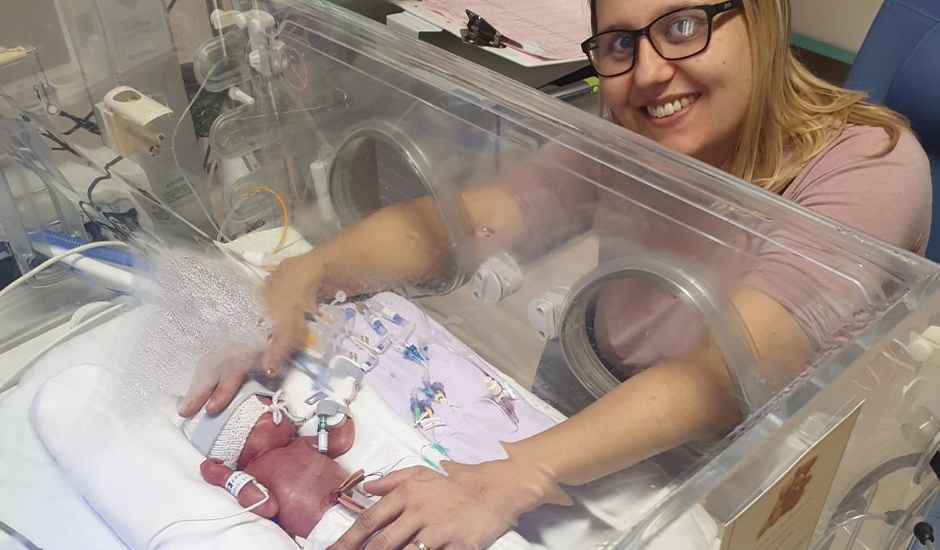 On 12 March at only 23 weeks pregnant, and as the country prepared for the COVID-19 pandemic, Kelly gave birth to her daughter Kaia, weighing just 765g.
Kaia was immediately taken away from Kelly and her husband Max to be put on breathing support. When Kelly was discharged from hospital the 30-mile trip to see Kaia posed a challenge. Kelly does not drive, and tight visiting rules meant Kaia's three siblings could not meet their new sister. As Kaia's condition deteriorated only Kelly was able to visit her.
She was urgently transferred to Southampton Hospital for bowel surgery, 50 miles from the family home. Doctors feared she had necrotising enterocolitis, a serious illness in which tissues in the intestine (gut) become inflamed and start to die.
Kelly paced at home waiting for news during the five-hour operation to remove 15cm of the inflamed bowel. She desperately wanted to visit her daughter but getting to Southampton was impossible. The family had no childcare for their three other children, and hospital accommodation for parents was closed to minimise transmission of COVID-19. For four weeks Kelly was unable to visit Kaia. She was receiving photos from the neonatal ward, but she pined to be with her baby.
The hospital referred Kelly to Rainbow Trust and Family Support Worker Mandy got in touch with her and explained that she could take Kelly on the 100-mile round trip to visit Kaia once a week. She valued the flexibility that Mandy gave her to let her decide how long she needed to stay at the ward.
After a period of improvement Kaia then became seriously ill again, swelling up, developing sepsis and requiring seven hours of surgery. During the operation Kaia's breathing tube got dislodged, one of her lungs collapsed, and another 10cm of bowel was removed. Kelly was rung at 5am and she remembers she could only pray. Kaia's second lung collapsed and her blood was not clotting as it should. 'It was the worst day of my life, it really was horrible.'
Thankfully, Kaia's condition stabilised. When Kelly managed to visit a few days later, she found it incredibly lonely with no one else allowed to accompany her. Infection control measures meant that nurses could not comfort her as they might in ordinary times.
"To go through it on my own was really hard. To see her in intensive care again and on a ventilator, incredibly swollen, cannulas and wires everywhere... I didn't even know how to touch her. Going through all that and not having my husband next to me was horrendous. I absolutely hated every minute of it."
Kelly remembers a particularly hard day when she was finding it too much to cope with. Mandy met her for the drive back home. 'We talked the whole way, and that really helped.' Kaia's elder siblings had still not met their sister, and Kelly felt she was living two separate lives.

Max, Kaia's dad, was finally able to visit after 8 weeks due to a change in hospital visiting rules, but only one parent could be on the ward at any time. The hospital had a rota system to spread out visitors and minimise the risk of transmitting COVID-19. When they could drive themselves, they also had to cope with 'astronomical' petrol costs - and, unlike parents who lived closer to the hospital, they could only make use of one of the two visiting slots each day.
Kaia was moved back to Portsmouth hospital, closer to the family home, and on day 88 they were able to hold her for the first time. Finally, after 117 days of neonatal care, Kaia was discharged. Kelly and Max did not tell Kaia's siblings that she was coming home so they could enjoy the surprise when they came in the door. Kelly said:
"COVID-19 has made it incredibly difficult and a much lonelier journey than it ever should be. We watched the government briefings and nobody ever mentioned it, nothing was ever mentioned about parents with babies in neonatal care."
Kaia and her family's ordeal didn't end there.
Kaia underwent stoma reversal surgery in early January. She was in theatre for 5 hours and was eventually discharged from hospital 10 days later. Since then, Kaia has been readmitted to hospital due to infections and inflammation caused by a fistula.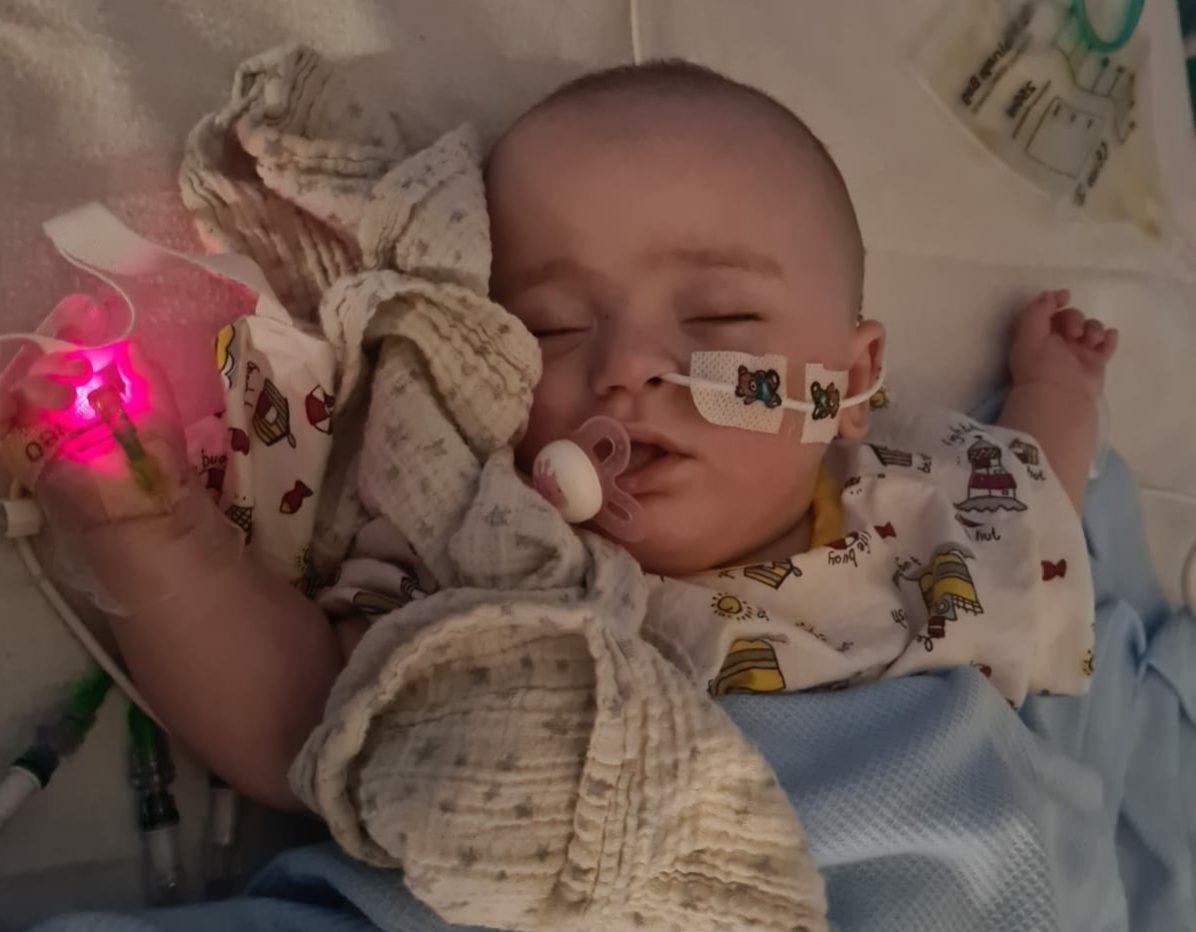 After speaking to Kaia's surgical team, it was decided she needed to go back to Southampton Children's Hospital.
Yet again, due to ongoing COVID-19 restrictions, only one of Kaia's parents was able to be in hospital with her at any one time, which was very stressful. Kelly says:
"Kaia will need a further laparotomy, as well as repairing her abdomen muscles, which don't meet as a result of complications following another operation she underwent last year whilst she was in the neonatal unit."
Mandy will continue to support Kaia and her family throughout her ongoing treatment and recovery, and will be there for as long as the family need her.
Please donate today, so we can continue to support more families, like Kaia's.