Meet Mikaere and his family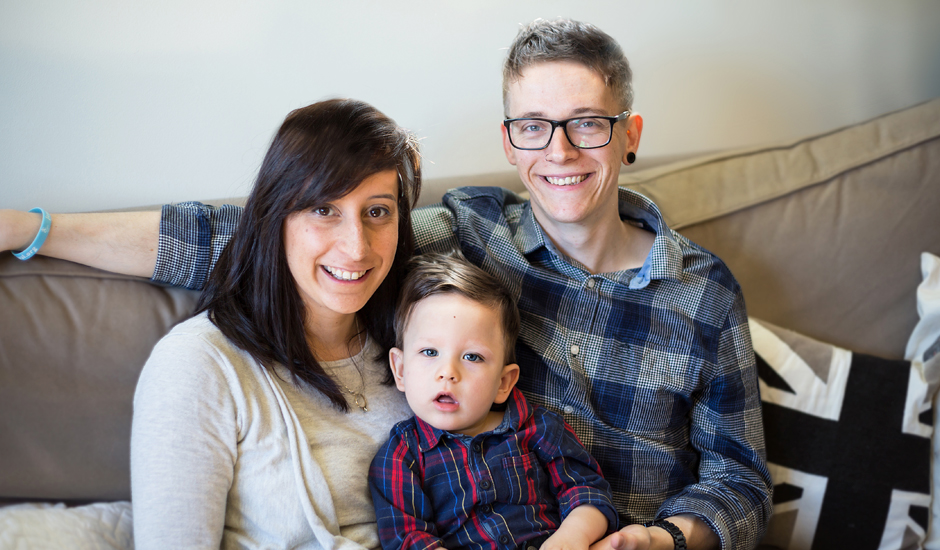 When Elly went into labour, she and Sam, her partner, were so excited. They were ready to meet their little bundle of joy and had prepared diligently for parenthood.
However, parenthood didn't look like they expected it to. When their baby didn't show any signs of descending down the birth canal, doctors had to intervene. Mikaere was born at 41 weeks. Here, they share their story.
When he was born, we had a few moments where everything went as expected. He cried and opened his eyes - we thought he was fine. His breathing was shallow, but doctors reassured us that he'd be okay.
We had a beautiful hour together before the second check. By then, Mikaere had closed his eyes and was floppy like a rag doll when he was rushed to NICU (Neonatal Intensive Care Unit)
Due to the epidural I had, we had to wait six hours before we could see him. Time moved intolerably slow, until eventually he was moved to the Special Care Baby Unit, where we were allowed a very gentle cuddle. We were still very hopeful he'd come around.
On day two he was having difficulty breathing and by day three, he had stopped breathing altogether and was on a ventilator. He was completely unresponsive and in a coma.
Sam and I didn't know what to do - we had expected to be taking our beautiful baby boy home and showing him off in all his glory. Instead, Mikaere, had been sent to intensive care and was hooked up to machines. No one could explain what was wrong and the doctors began preparing us for the worst-case scenario.
During labour I had developed an erratic heartbeat and was monitored every few hours on the labour ward. It was tough. I was surrounded by new mothers with their perfectly healthy new-borns. It was a terrible juxtaposition, to see others enjoy parenthood in a way we couldn't.
"We felt so alienated - often we didn't know what was going on."
Because of how quickly neonates can deteriorate, decisions were made about Mikaere's care and we were informed afterwards. It's not the typical path in which a parent discovers parenthood. It was a very, very scary time for us. Everything felt out of our control.
When we met Jo, a Family Support Worker from Rainbow Trust Children's Charity, we'd been referred by our bereavement nurse, an indicator of how things were expected to go. But she wasn't part of any medical team. Her focus at the time wasn't Mikaere, but us. She asked how we were, what we needed and how we were coping. She was a breath of fresh air.
It took ten days to diagnose Nonketotic Hyperglycinaemia (NKH). It means Mikaere can't process glycine, which is a neurotransmitter. With toxic levels of glycine in the brain, development is severely delayed and stunted. Uncontrollable seizures are common and worse, NKH is terminal. Eighty percent of babies don't survive the NKH neonatal coma.
We were lucky. After diagnosis, he was started on two medications and on day 12, opened his eyes for the first time. A few days later he started breathing over the ventilator and soon gained his reflexes back. We were overjoyed, but Mikaere's medical team were less optimistic. It took another three weeks before we were discharged from hospital.
A year and a half on, we have a team of 28 people supporting Mikaere's every need. From specialist consultants, to nurses and therapists. We have an ever-revolving door of different people, but Jo is one of the few consistent supports, and the only person who's been with us since the beginning. We know she is our Family Support Worker and that will never change.
Jo always knows what to say
Jo always seems to know just what to say. I know that if I have something that I don't know how to handle, Jo will be there. She'll say, "Let's do it together," instantly making the difficult much more manageable.
For example, I would never take Mikaere on public transport. His immune system is compromised and he's very vulnerable. A cold would put him in hospital right away. But driving with him is difficult - if he has a seizure while I'm driving, I struggle to concentrate while looking out for a safe place to pull over to help him. I'm constantly worried something will happen while we're out.
"Jo drives us the hour trip to our specialist hospital. It means I can be in the back seat with Mikaere, so I can deal with him and give him my full attention. With Jo's help, we get to hospital appointments safely."
At the moment, we have medical appointments every day. He has a complex medication schedule - taking over 20 different medications on a strict, six hourly schedule. Mikaere also wears a helmet, for his plagiocephaly or flat head syndrome and a compression suit, to help support his body with his low tone. We do some form of therapy every day - physio to help build his strength and help him hold up his head, occupational therapy to help with his hand movements and grasping, sensory and play to encourage him to play and visual play to help with his eyesight. We do a lot to help Mikaere make sense of the world.
Jo helps us with so much of what we need to do. She helps with the hard things, the things I think I can't manage or don't want to do on my own. She understands the hospital experience and has been instrumental in helping us through. Without Jo and Rainbow Trust's help, our lives would be so much more difficult.
The best bit is that Jo normalises life for us. She's not shocked at the medical life we live - she understands what hospital life is like and takes our out-of-the-ordinary in her stride. She talks to us and provides some semblance of normality. We're very grateful for this - it's like I was thirsty for normality and when Jo is around - I drink my fill.
I don't want to consider what it would be like without Jo, and thankfully, I don't have to. Rainbow Trust will be there for us for as long as we need them and I would recommend them to anyone in a similar situation. Having someone we trust who we can rely on, consistently, makes a huge difference to our lives.
There are still families without support like this. Could you become a Family Support Worker sponsor for a few pence a day? Find out more.