Meet Mckenzie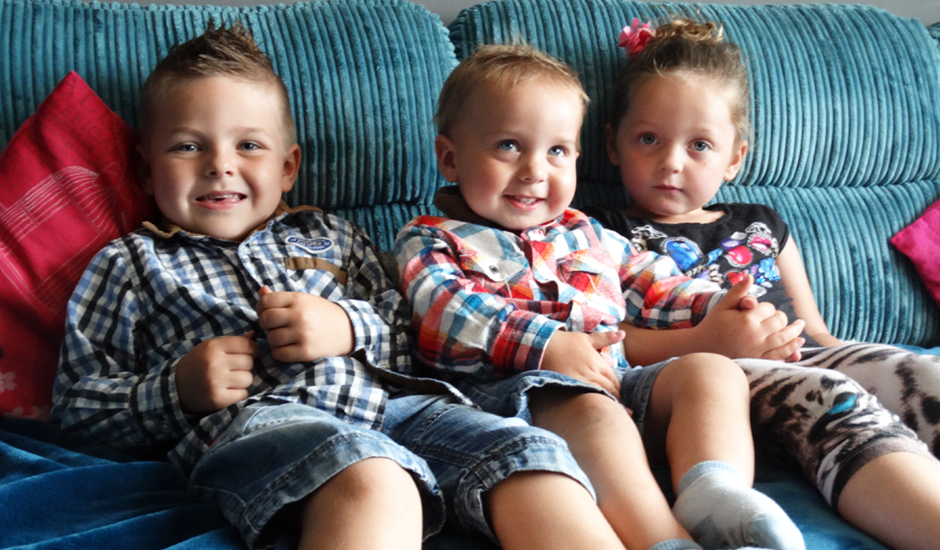 When McKenzie (pictured left) was diagnosed with atypical HUS, a disease that destroys red blood cells and causes kidney failure in children, the family were told he was the only person in the world who has this condition. Hear from the Kemish family as they share their story.
In August 2011, two year old McKenzie fell off a chair and did what most children do, he cried for a minute, then carried on playing. When his mum, Amberley, went to change his nappy he let out a "high pitched scream in agony," but she didn't know why. She watched him over the course of the day and noticed he had a stiff neck which she assumed was from the fall. Amberley and her husband, John, went to the hospital where doctors suspected that he had meningitis. They were rushed up to the General Ward only to be told he had tonsillitis and could go home.
Weeks later, Amberley noticed that he couldn't turn his head and had a pea sized lump on the side of his neck. In October of that year, an ultrasound scan and biopsy revealed that he had abnormal lymph nodes and Stage 4 Neuroblastoma. The tumours in his neck had started crushing his airways so McKenzie was put into a coma for four days to save them from collapsing. He underwent chemotherapy until the end of March and was kept in hospital for eleven long months.
McKenzie was then diagnosed with atypical HUS. He underwent six months of chemotherapy, then surgery, then radiotherapy which involved a general anaesthetic daily for three weeks. The chemotherapy eventually had to be stopped as his body had begun to shut down.
"If we'd given him one more dose of chemotherapy, we'd have killed him," says mum.
In September of that year, McKenzie started treatment in the form of an IV infusion drip which he had to have every two weeks in hospital. The drug protects his kidneys by slowing their deterioration but the family are aware that he will need a transplant when he's older.
"We take every day as it comes, we wake up in the morning and think today's a good day. We're lucky to have made it this far, we just don't know what tomorrow will bring."
For a family which has been through so much heartache and difficulty, they're exceptionally positive and see each day as a blessing. Amberley remembers the day when McKenzie was first diagnosed and given a 40% chance of survival and another mother on the ward said, "40%? That's amazing!"
"I looked at her and thought, you're right, even 1%, you have to cling to it!"
A while later, Amberley and John met Dawn, a Rainbow Trust Family Support Worker, in the playroom at the hospital. She asked them what kind of help she could provide and Amberley told her she'd like someone to play with her children and, "bring some fun back into their lives," since they'd lost that with McKenzie being so ill. Dawn started visiting the family's home and played with the children who immediately 'clicked' with her. "They all just love her."
The time Dawn spends with the children allows Amberley to do the shopping without having to drag all five children along.
"One day when Dawn came, she told John and me to go and have a meal, just us two, we never get to do that," remembers Amberley fondly.
As well as playing with the children, Dawn provides the family with emotional support, "If one of the older girls is struggling emotionally, I call Dawn to come and have a chat with her." She has been very supportive throughout McKenzie's illness and helps the family stay optimistic.
McKenzie is unaware of the enormity of what he has been through and accepts his life for what it is and makes the most of it, "He's the only child I know who rides his drip like a skateboard," laughs his mum.
As McKenzie gets older, cosmetically, the damage of the treatment and his illness will become more apparent. Despite all of this, he looks like a typical happy five year old playing with his siblings. He won't be able to play certain sports like other boys his age but his parents encourage him in every way they can.
"He came home from school with a note about a Construction Club and when I told him he could do it, he said, "Yes! I got one!" and then ran around the office the next day telling the staff he could finally join a club."
His enthusiasm to embrace life is obvious and, despite being a very poorly little boy, he still manages to face each day with a smile. Dawn continues to support the family, her time is precious to them as they continue to juggle life with five children and hospital visits, while maintaining a positive environment for them all.