Meet Daniel and his family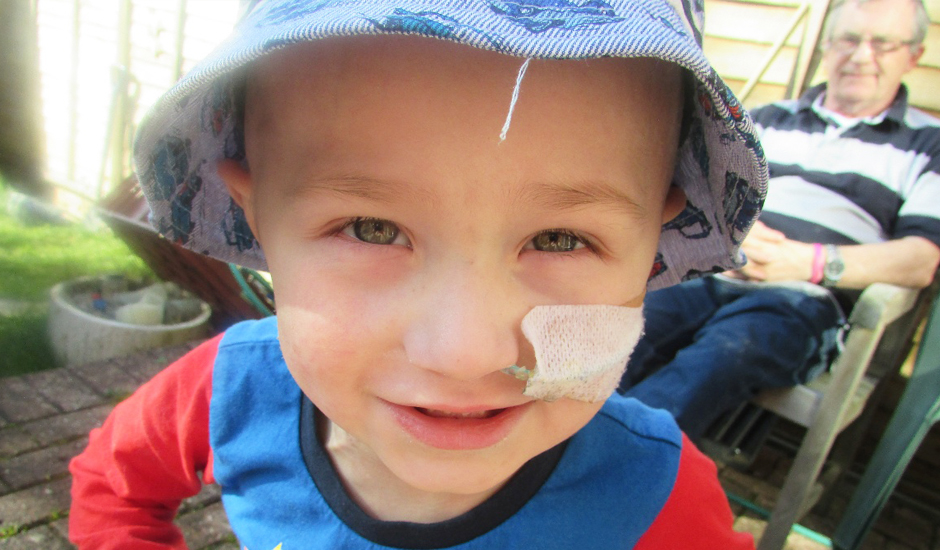 Soon after Daniel was two, he stopped walking and wasn't eating. He was a grey colour and his parents and doctors thought he was anaemic. After numerous tests, Daniel was diagnosed with neuroblastoma, a cancer which mostly affects babies and young children.
Within a few weeks of diagnosis, Daniel and his family were introduced to Sabrina, one of our North East based Family Support Workers.
With all the tests and treatment he had to have, Daniel withdrew into himself and wouldn't let anyone touch him. He even made up the word, "mish," to tell people to go away but he took to Sabrina instantly.
Claire and Michael, his mum and dad, were so grateful for the support as Daniel's diagnosis came just three weeks after Claire had discovered she was pregnant. Sabrina helped with hospital appointments and would sit with Daniel to give Claire and Michael a break to speak to consultants, make phone calls or even just grab a coffee and have a breather.
Half way through Daniel's treatment, the chemotherapy stopped working and he had to go onto a clinical trial to see if the new treatment would work. He had surgery to remove the tumour and it was Sabrina who got him out of bed after to sit in the chair in his hospital room.
When Daniel's sister was born, Michael took time off work to take care of Daniel.
"Luckily both our parents are retired so we had a lot of help," said Claire. "Although most of that time was a blur for me."
Daniel is now doing really well. Unfortunately, with neuroblastoma, there is a high tendency to relapse and Daniel recently spent 15 days in hospital with a severe chest infection. Claire was very concerned about this as Daniel hadn't been in hospital for over a year and was very anxious about it.
"Sabrina comes in for clinic appointments with me and reassures me about stuff which is invaluable. She's there for Daniel – he adores her. She plays with him and he has so much fun with her, which is so lovely to see," says Claire.
Any kind of hospital treatment for a child is very harrowing for parents. Watching them undergo often life-saving treatment and procedures which are invasive and painful can leave parents very distressed, so having the support of someone they can trust, someone they know their child loves and feels comfortable with, can and does, make a huge difference.
"As well as being there for Daniel, Sabrina is there for me too, which has been fantastic. I've needed someone to talk to who understands what we, as a family, and me as a mum, is going through. I've gone to coffee mornings at the hospital and just having that time and space to talk to other mums and parents has been so helpful. It helps me feel less isolated and more supported knowing and meeting others that are going through the same thing as us."
"With Sabrina's help, I did make friends and now have a couple of mums who I speak to most weeks and I'd be lost without them. They understand what we have been through, what our life looks like and what it feels like having a child with a serious illness. I couldn't do without them now. If it wasn't for Sabrina's encouragement to speak to other parents, I'd never have spoken to anyone," says Claire.
"Life without Sabrina…. Not sure if this is something I could ever imagine."