Alfie's story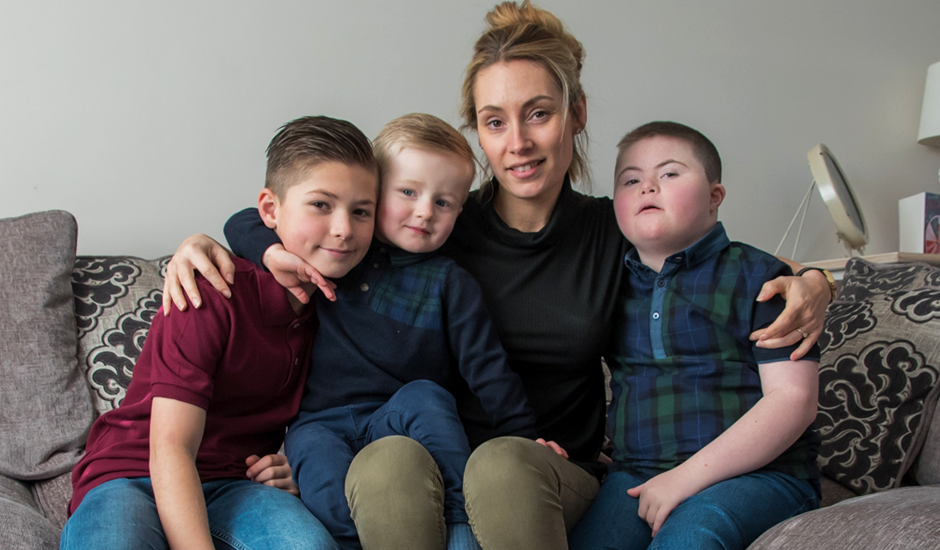 Sophie and Matthew, her partner, were devastated when they were told that their baby boy had Downs Syndrome and two holes in his heart. All their hopes and dreams for their first born were dashed in a moment.
Alfie underwent open heart surgery at just seven months old to repair the holes in his heart. Watching their baby undergo such a serious operation was frightening for the young couple as they didn't know if the operation could save him. But Alfie, "is such a little fighter!!" says Sophie and he only stayed in Intensive Care for a few days. He responded well and this brave little boy fought his way through.
A few months later, Sophie and Matthew fell pregnant with their second child, Frankie, and life continued for the growing family. Sadly, when Frankie was six months old, Alfie was diagnosed with leukaemia. He was immediately put onto the three year treatment programme that baby boys with leukaemia go through. "Frankie practically lived with Matthew's mum," remembers Sophie. Trying to juggle a new baby and hospital appointments was close to impossible but the family did their best to take care of both boys.
Alfie responded well to the treatment. He got through his three years of treatment and life settled down for the family. A few years later, Sophie gave birth to another little baby boy. Dennie brought all the joys of a new baby into the home but sadly, when Dennie was just one, Alfie relapsed. Because of Alfie's Downs Syndrome, he is more sensitive to the chemotherapy needed to treat him. He got very sick and spent nine months in hospital.
Matthew had to go back to work like so many fathers do in this day and age. Sophie would come home at weekends to spend time with Frankie and Dennie and Matthew would then spend the weekend at the hospital. The pair were like so many couples in this situation, like ships passing in the night.
"The first time I didn't ask for help as I felt I was failing as a parent if I couldn't cope but I knew I needed help. Knowing what to expect, I knew I wouldn't be able to be the parent I wanted to be without help."
"I heard about Rainbow Trust from a social worker. I asked her if there was any help I could have at home. I knew having Alfie at home in a wheelchair and the two boys would be very difficult. I can't leave Alfie alone."
Jessica, a West London based Rainbow Trust Family Support Worker started visiting and supporting the family.
"Jessica has not only come to the hospital and sat with me or Alfie but has also taken Alfie out to the park with me. I can talk to Alfie but having another adult to talk to is really nice. I haven't felt so alone this time. I feel I can pick up the phone to Jessica and say, I really need you today, is there any way you can come? There is always a way she can come, she always makes a plan to come and help."
"Alfie and I have made a really good friendship with Jessica that I hope will last a lifetime."
For other parents and families in a similar situation, I'd say don't be afraid to ask because you're not failing as a parent, you're actually doing the best thing because you're making life that much easier for your family and for yourself. We actually feel like a family unit again because I can spend time with the other children in the home while she spends time with Alfie. It's the whole package that makes it, it's not just that one thing, it's everything that Rainbow Trust supports us with.
"We take every day as it comes and enjoy our brave little soldier who is an inspiration to us all," says Sophie.
Rainbow Trust understands how precious time is for families like Sophie's - we do as much as we can to help them enjoy it and make special memories and to help keep families strong when under pressure.