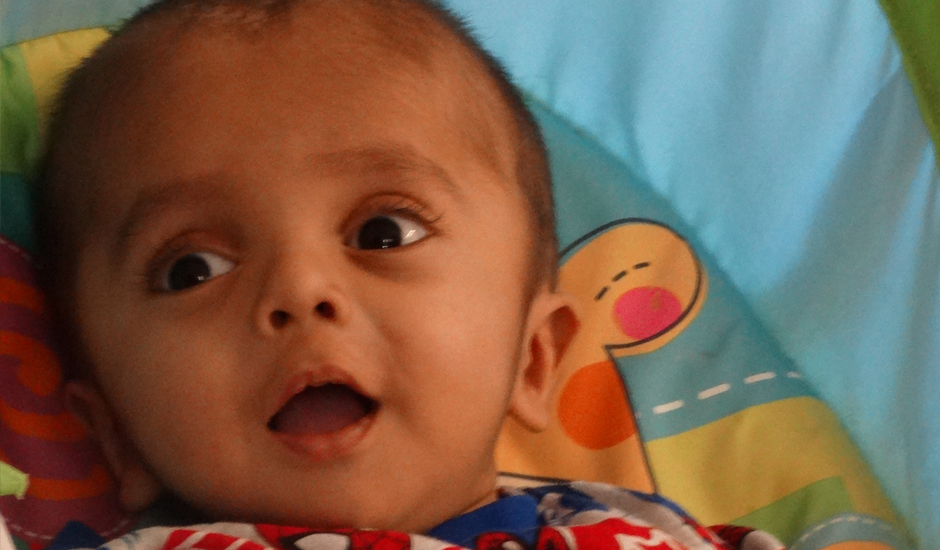 Meet Abideen and his family
After the death of her first-born son to Brittle bone disease 16 years ago, Shabnam Syed was understandably worried when she fell pregnant again seven years later. However, much to her relief, she gave birth to a healthy daughter, Sofia.
Another seven years on when Shabnam fell pregnant again, the family faced more worry as this time scans showed that her son, Abideen, had the disease. "He was born with fractures from his head to his toe," Shabnam remembers, "It would take three people just to change his nappy, he was that fragile".
For Shabnam, it has always been important to be honest with Sofia, who is very smart for her age and loves playing with her brother. "When Abideen was born Sofia already knew a lot about the disease." Shabnam says, "We were honest with her, we told her that things would change, but we would try to keep her life as normal as possible".
Eleanor from Rainbow Trust helps keep that normality in the family's life. "Eleanor is what we call a 'pick me up' for Abideen. When he sees her he has this big special smile, whatever mood he's in!" Shabnam explains, "It was very draining on me at first as Abideen hardly slept and needed constant supervision. But now I have Eleanor and she is one of the few people I feel at ease leaving him alone with. She'll take him out, which gives me a huge break and means we are all more relaxed."
Eleanor also takes Sofia to sibling activities run by Rainbow Trust's Southampton care team. "She has had bakery lessons and made pizzas", Shabnam remembers, "It's great for her because she gets to meet other siblings who are going through similar situations that she can relate to".