John Scott's Rainbow Cake recipe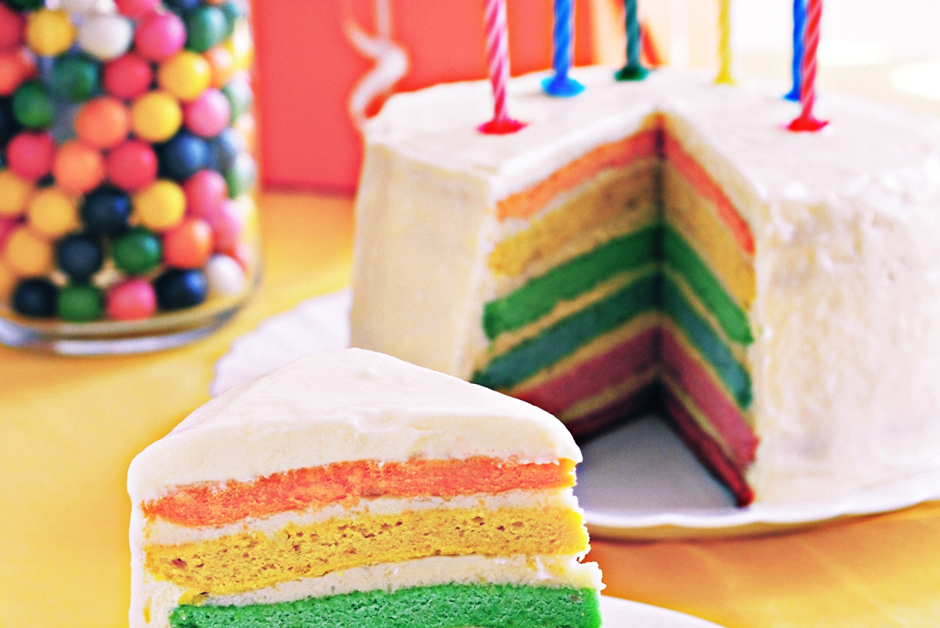 Ingredients
9oz caster sugar
9oz butter (cut into cubes)
9oz self raising flour
4 eggs
6 shades of food colouring (gel not liquid)
Buttercream/frosting
You will need to grease and flour three 7-8″ round tins and line with grease proof paper.
What you do…
Preheat the oven to 180/350 gas mark 4
Cream butter (at room temperature) with the sugar until pale and fluffy. Beat in the eggs one at a time if it starts to curdle add a little flour. Sift in the flour a little at a time and fold into the mixture using a wooden spoon.
Divide the mixture between 6 bowls and add your food colouring to each.
Then add 3 of your mixtures to your pans. Place in the oven and bake for 20 minutes. Check they are cooked by pressing down lightly on the sponge. If it springs back then it's cooked.
Take out of pans and leave to cool on a wire rack. Repeat again with the 3 other colours.
Once cooled coat your purple layer with frosting and then place on top with your blue layer, coat with the frosting and then place in the fridge to chill for 1 hr.
Then repeat with your next green and yellow layers and again with the final orange and red layers.
Sprinkle the top with hundreds and thousands and pipe shells around the top and bottom.