Will Torrent's Black Forest Cup Cakes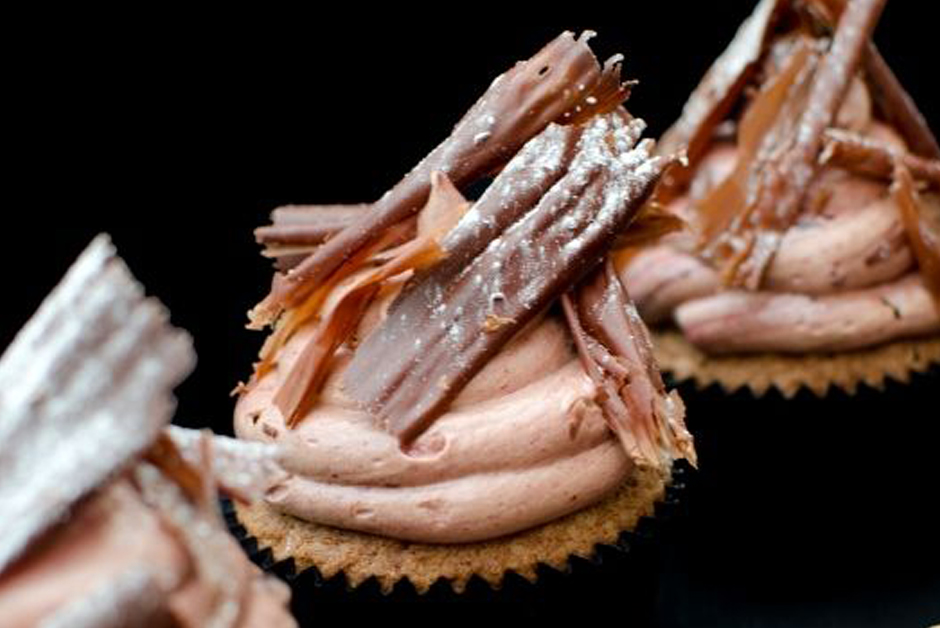 Ingredients (serves 8)
150g Unrefined Golden Caster Sugar
250g Butter (200g for Cake and 50g for buttercream)
4 Medium Eggs
80ml Semi-Skimmed Milk (50ml for cake and 30ml for buttercream)
150g White Self Raising Flour
50g Cocoa powder
50g melted dark chocolate
125g Icing Sugar
50g cherry jam/compote
25ml Kirsch or cherry brandy
1 tsp. Vanilla Extract
What you do…
Pre-heat oven to 180oC, Gas Mark 4.
Beat the caster sugar and 200g of the butter in a food mixer on high speed using the beater attachment for 5 minutes.
Slowly beat in the eggs, one at a time, and then 50ml milk.
Add the flour, cocoa powder, melted chocolate and mix thoroughly.
Spoon the mixture into cupcake moulds and bake in the centre of the preheated oven for 20 minutes until the tops of the cakes are even in colour and a skewer inserted into the centre of the cake comes out clean.
Allow the cakes to cool on a wire tray.
Soften the rest of the butter in a bowl in an 850w microwave on high for 10 seconds, transfer to a food mixer and beat on high speed for 1 minute. Slowly mix in the icing sugar, 1 tablespoon at a time, until the mixture is smooth. Add the rest of the milk & keep on whisking until light & creamy. At this point remove half and stir in the cherry jam, and with the other half stir in the kirsch and Vanilla Extract. Marble together in a bowl.
When the cakes are cool, using a piping bag with a star nozzle – pipe the marbled buttercream in the traditional way.
Sprinkle with shaved chocolate (you can create this effect but using a potato peeler on the side of a chocolate bar) and a dusting of icing sugar.