Rainbow Cookie Sandwich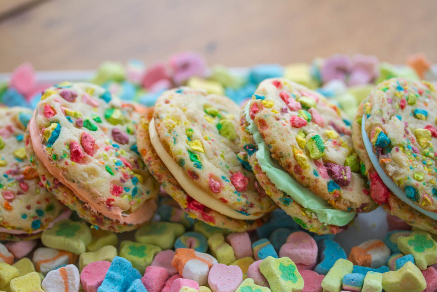 Ingredients
Cookies
1 1/2 cups marshmallows from Lucky Charms cereal
1 pouch Betty Crocker sugar cookie mix
Butter and egg called for on cookie mix pouch for drop cookies
Frosting
1 1/2 cups marshmallow creme
2/3 cup butter, softened
1 1/3 cup powdered sugar
Red, yellow, green and blue liquid food colours, if desired
Method
Heat oven to 375°F. Line cookie sheet with parchment paper.
Place marshmallows in resealable food-storage plastic bag. Using rolling pin or wooden spoon, crush marshmallows into small pieces (but not powder). Pour into small bowl.
In medium bowl, stir together cookie mix, butter and egg until soft dough forms. Shape dough into 36 (1 1/4-inch) balls. Roll each ball in marshmallow pieces, pressing gently to get marshmallow pieces to stick. Place 2 inches apart on cookie sheet.
Bake 8 to 10 minutes or until set and light golden brown. Cool 2 minutes; remove from cookie sheet to cooling rack. Cool completely, about 30 minutes.
Meanwhile, in large bowl, beat marshmallow creme and 2/3 cup butter with electric mixer on medium speed until well blended. Beat in powdered sugar on low speed until fluffy and creamy. Divide frosting evenly into 6 small bowls. Add desired food colour(s) to each to make rainbow colours.
For each cookie sandwich, spread desired colour of frosting on bottom of 1 cookie. Top with second cookie, bottom side down; gently press cookies together.