Sponsor a Family Support Worker
£5 a month

For a year could support three families at their first hospital appointment with their seriously ill child.

Sponsor now

£3 a month

Could help fund a Family Support Worker helping a scared and confused sibling to talk about their fears and concerns.

Sponsor now

£15 a month

Could help provide respite for a parent struggling to cope, allowing them to do chores, look after siblings, or just sleep.

Sponsor now
Help make every precious moment count for families with a seriously or terminally ill child, when life is turned upside down, by sponsoring a Family Support Worker for a few pence a day.
What's a Family Support Worker?
When your child is seriously ill, family life is turned upside down and the smiles, the milestones and the memories become more precious than ever.
Rainbow Trust pairs each family with a dedicated expert Family Support Worker to help them cope and make the most of each new day. With your support, we can be there tomorrow, not just today, for all the families that need us.
The difference you can make
When a son or daughter is seriously ill, parents may not be able to look after their other children or do the school round. They may face having hospital appointments miles away from home and struggle to look after their very sick child whilst driving. Or they may face the challenge of living with the knowledge that their child has a terminal illness.
The strain on the family of a seriously ill child can be immense. It can be totally overwhelming.
Family Support Workers help give practical and emotional support when it is needed most, by filling the gaps between hospital, home and hospice.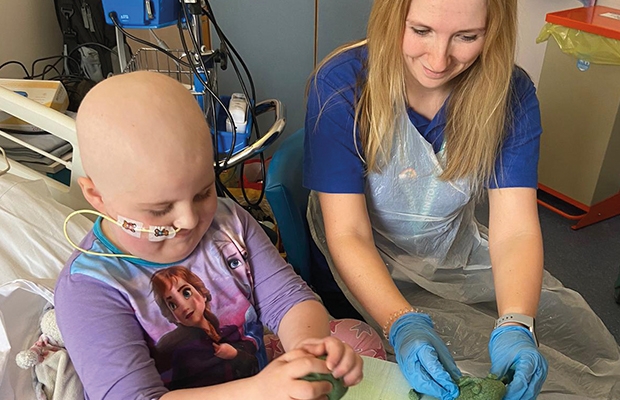 Sponsor a Family Support Worker today
Anna's mum says:

"With childhood cancer, the support often means receiving lots of toys and presents which is amazing, but Rainbow Trust has honestly been the charity that has made the most difference to our lives."

Zayd's mum says:

"We couldn't have got through it without Sabrina. Without her, Zayd's brother would be in therapy and both he and his sister would have felt so neglected. She made them feel special again."
You can help provide dedicated, vital and expert assistance to more families by sponsoring a Family Support Worker today.