Date published: 22 Sep 2020 by Amber Hemming
Teams from Kennedys Law have not been deterred by the restrictions currently placed on so many fundraising events. Kennedys UK employees have been as enthusiastic as ever and taken part in four fabulous challenges - the Virtual Hairy Haggis Relay, 10K Steps for Justice, Make Up Your Grown-Up and the London Marathon virtual race 2020. Helping to raise over £148,500.
With the pandemic having a significant impact on our fundraising income, Kennedys have continued to support the Rainbow Trust and really do understand the challenges we face. Many families caring for a seriously ill child are feeling even more isolated and forgotten in lockdown.
The families have previously accessed, both health and social care, have ceased to operate or changed significantly, leaving families feeling anxious and in need or more support than ever before.
Here's Gareth Thomas, Partner at Kennedys London office taking part in virtual London Marathon. Well done Gareth. Your medal is on its way to you!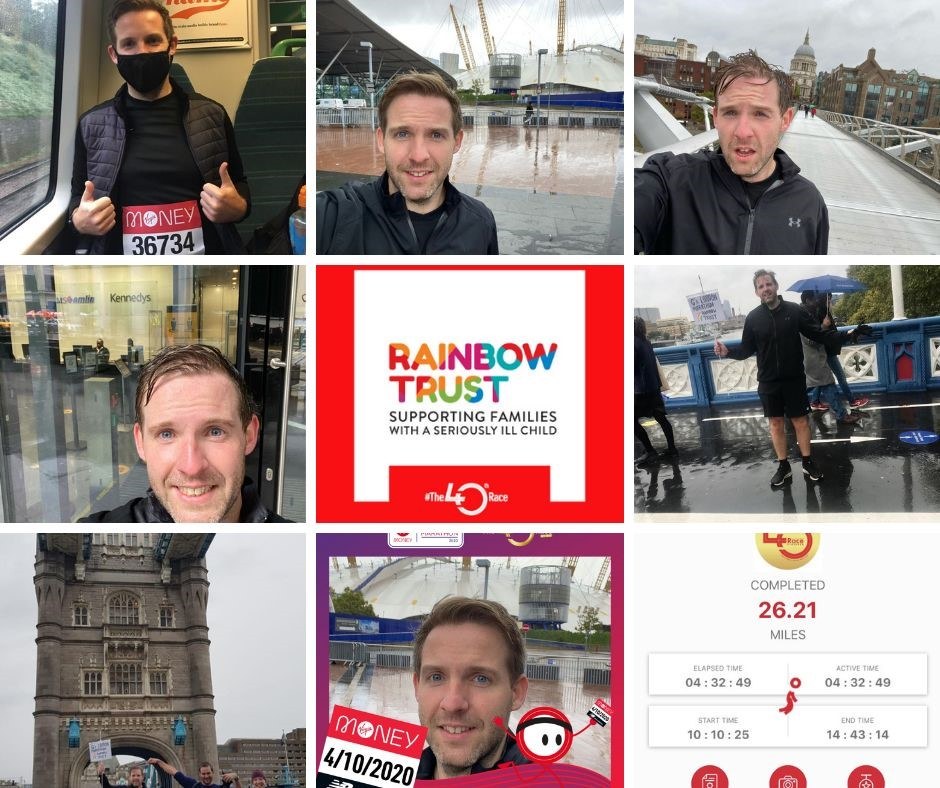 Oonagh Goodman, Director of Fundraising and Marketing at Rainbow Trust, said:
"We are very grateful that Kennedy's have held so many fantastic events to help us fund our vital support to families with a seriously ill child. All the money raised from the event will help us to support families and make the most of the precious time they have together."
If you're interested in becoming a corporate partner of Rainbow Trust, please visit our companies page for more information. Alternatively, you can email Gaby or Katherine from our fundraising team.