Date published: 24 Mar 2015 by Anna Jackson
I'm very excited to announce that TV star, Hugo Taylor, has joined our team and will be running the Virgin Money London Marathon to raise money for Rainbow Trust and Malaria No More UK. Best known for his appearances on I'm A Celebrity… Get Me Out Of Here! and Made in Chelsea, reality star Hugo is a long standing supporter of Rainbow Trust and we are extremely excited that he has chosen to undertake one of the biggest sporting challenges to raise money for families with a seriously ill child.
Hugo, who previously appeared on Who Wants To Be A Millionaire? for Rainbow Trust, tells us that long hours of training and preparation will all be worthwhile come event day.
"The marathon is a really tough challenge and this year I am aiming to complete it in under four hours. Trying to fit in training has been tricky, but it's definitely worthwhile when you see the difference Rainbow Trust makes. The support on the day is incredible and crossing the finishing line will be a wonderful feeling."
Emma Smith, Rainbow Trust's Head of Fundraising, says:
"Taking on the London Marathon is a huge commitment and we are really grateful that Hugo has chosen to take on this epic challenge for us. We'd like to thank Hugo for his continuing support, helping us to raise awareness of the work Rainbow Trust does to support families with a terminally ill child. It's down to the generosity of our supporters that we are able to continue raising vital funds for families in desperate need. We wish Hugo the best of luck and will be there on the day to cheer him over the finish line."
Hugo is taking his commitment seriously, dedicating his spare time to preparing for the big day. He sent us this photo, in his brand new, hot-off-the-press Rainbow Trust running vest, while training hard in the desert on a recent trip to Namibia!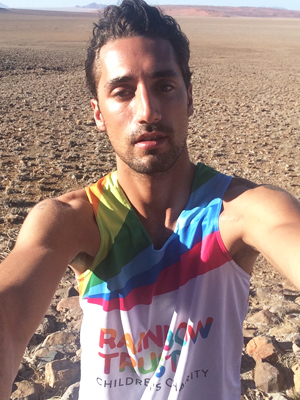 What do you think of our new running vests? Are you excited that Hugo will be joining our team? Please share our exciting news on Facebook and Twitter and tweet your good luck messages to Hugo (@hugo_london). If you are running the marathon for Rainbow Trust share your own #marathontrainingselfie too!
Maxine Edwards, Events Promotions Manager