Date published: 02 Feb 2021 by Amber Hemming
Lancashire based Family Support Worker William is qualified to deliver a Drawing and Talking programme as therapeutic support.
Designed to help people who have suffered trauma or have underlying emotional difficulties, the idea is to draw with a person with whom they feel comfortable. The trusted person will ask non-intrusive questions about the drawing, and over time trauma is healed. William has delivered support to six siblings of seriously ill children this year. One of the children who took part is 10-year-old Ethan*.
Ethan's sister, Grace, was diagnosed with a brain tumour in 2016 and Ethan has particularly struggled with the impact of his sister's recurrent illness and was suffering with low self-esteem. William had been visiting Ethan once a week for a few months and spending time with him while Grace had treatment at Manchester Children's Hospital.
Ethan and William formed a strong relationship and Ethan was really benefiting from having someone to talk to. William introduced Ethan to the Drawing and Talking programme to help develop his ability to handle his emotions and feelings more positively, with the aim of boosting his self esteem.
The impact of this support is measured using the Rosenberg Self-Esteem
Scale. 10 items are answered on a four-point scale ranging from strongly
agree to strongly disagree. Ethan's scores after 12 weeks clearly show that his
self-esteem had improved: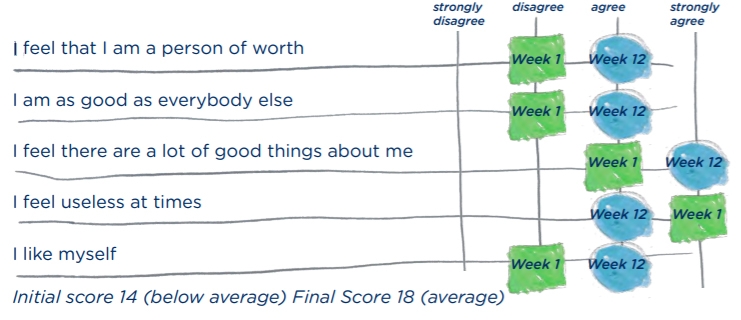 This process helped Ethan and his parents understand what his challenges were and the progress he has made. It has helped the family focus on the positives and their achievements over the past few months and Ethan feels he is able to speak more openly to his parents about his struggles.
This therapeutic support has so far proved to be a very beneficial new element to our service where children are demonstrating a need for more specialist care. The results of the programme can be shared with other professionals working with the child if appropriate, to improve links between services.
Without Rainbow Trust, Ethan would have had to travel a long distance from home for this sort of support and would have had to wait a long time to receive it. There are clear benefits from it being delivered by someone with whom he already has a trusting relationship and who understands his family situation.

*names have been changed