Candice's Rainbow Layer Cake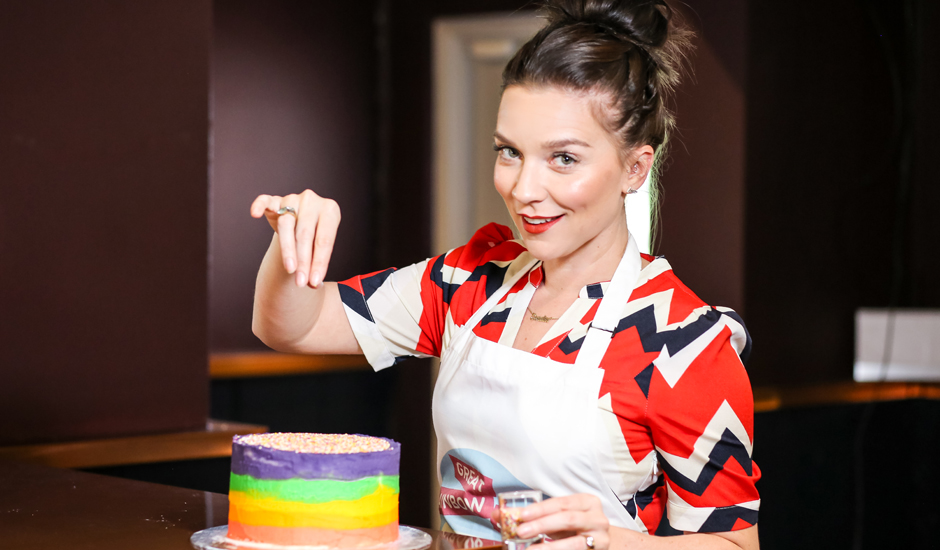 For the cake:
335g self-raising flour
335g soft unsalted butter
335g golden caster sugar
2 teaspoons baking powder
6 eggs
Zest of one lemon
Rainbow gel colours
For the icing:
500g icing sugar
250g soft unsalted butter
Juice from 1 lemon
Get baking
Add all the cake ingredients to the bowl and mix really well so it is combined and fluffy but don't over mix it
Divide the mix into how many layers you are going to make. For each layer add a couple of drops of colour and mix through
Pre heat the oven to 160C fan. Grease and line your cake tins. Between 8-10 inch recommended depending on how many layers you are doing
Put the mixes into the prepared tins, level them so they're lovely and smooth. Put them into the oven, for about 20 mins (depending on size). Tip- don't open the oven too soon or they might start to sink
Take the cakes out the oven and give them a few minutes to cool in the tin. Then put them onto a cooling rack. Tip- put a tea towel onto a cooling rack before turning out the cake to avoid having marks on the cake
When the cakes have completely cooled put them to the side
For the icing add half the butter into the icing sugar and whip together. Electric whisker is best for this. Mix for a while until it's nice and smooth. Gradually add more butter then start adding in the lemon juice bit by bit. Keep whipping the icing until it is light and fluffy and doesn't feel grainy when you rub it between your fingers
Divide the icing into bowls how many layers you have and add colour
Blob each of the different coloured icing around the edge of the cake in a straight line up the side. Start from the bottom and work up until you reach the top. You should have lines of colour around the cake. Take a smooth palette knife or spreader, spread in one movement buttercream around the cake to get the desired stripe look
Finally, get creative! Spread the remaining buttercream on top and either leave plain or add sprinkles - decorate the top however you like!