3 ways to #GreatRainbowBake
Before you throw your apron on and weigh out your ingredients, you need to choose how you would like to take part. Even though traditional bake sales are off the table for the short term, there are still lots of ways you can bake and fundraise! Here's our top 3 ideas…
Plan how to raise money (for example, at a fixed location, like a front garden, or by delivery).
Set up a JustGiving page so that people can pay for their bakes digitally, if necessary.
Advertise to your neighbours, friends and networks using the materials in your free downloadable fundraising pack.
If delivering, ask for orders and donations to your JustGiving page in return for donations.
If selling at a fixed location, print and build your donation box to use.
Bake, set up your stall and then sell, and/or deliver!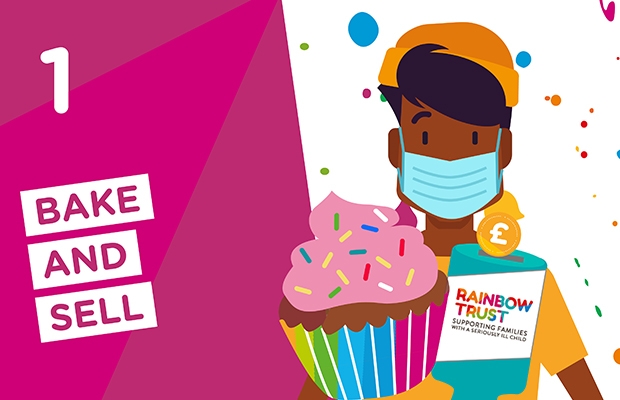 Set a date for your virtual bake party.
Set up a JustGiving page so that people can donate to participate in your virtual bake party.
Invite guests and tell them what to do to join the party.
Remind guests to donate and to share to social.
Hold your party – you could play baking games, host a bake off, host a baking-themed quiz - and, of course, eat cake! There are lots of materials such as bake off scoring sheets and quiz questions in your free downloadable fundraising pack.
Close your party, thank your guests and remind them to donate to your JustGiving page!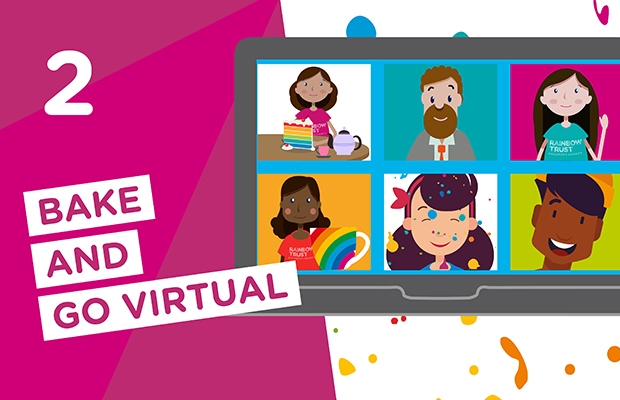 Set yourself a baking challenge. There's a free recipe in your downloadable fundraising pack, or you can find your own!
Take photos of your creations as you bake.
Donate what you can on our website.
Or you can text RAINBOW to 70490 to donate £5*.
Post your photos to social to make some noise. You could even tag a few friends and invite them to join you in baking and donating.
Use the hashtag #GreatRainbowBake and tag us - we want to see your creations and would love to share them too!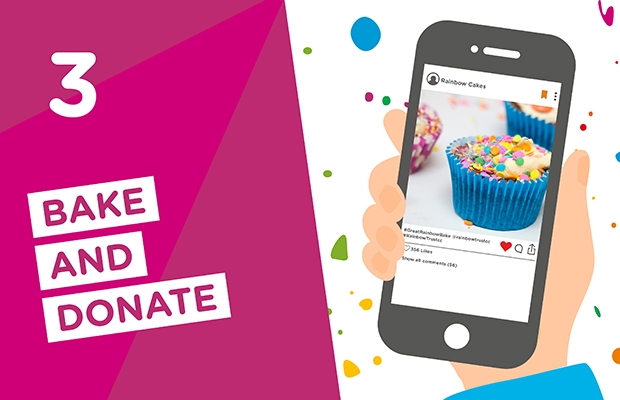 Sign up to receive your free baking pack
You'll receive a downloadable pack to get started, other goodies over the coming weeks to make your baking and fundraising a piece of cake and more in the future about how you are helping to make a difference.
Thank you for signing up to Great Rainbow Bake!
A confirmation email with your free downloadable fundraising pack will be on its way to you shortly.
If you have any questions in the meantime (or for any reason don't receive this), please email our friendly fundraising team who will be happy to help.
*Text Rainbow to 70490 to donate £5. Texts cost £5 plus one standard rate message and you'll be opting in to hear more about our work and fundraising via telephone and SMS. If you'd like to give £5 but do not wish to receive marketing communications, text RainbowNoInfo to 70490.