Rainbow Omelette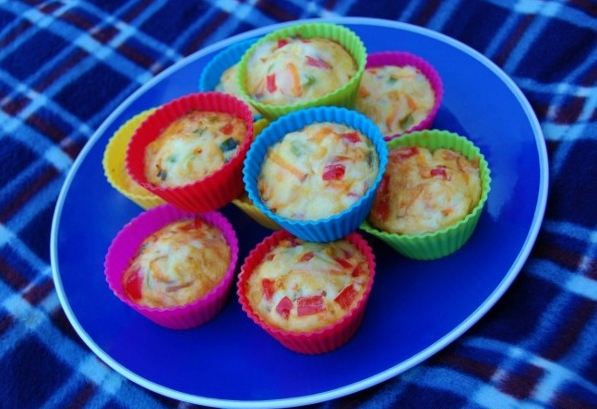 ​Ingredients (makes 6 'cakes')
1 tsp Olive Oil
½ Red Pepper
2 Spring Onions
1 Small Carrot
2 Tbs Sweetcorn
50g Cheddar Cheese
3 Large Eggs
What you do…
Preheat the oven to 180°C/350°F/Gas Mark 4. Line a muffin tin with six silicone or paper cupcake cases.
Prepare your ingredients – finely chop the pepper and spring onions, grate the carrot, drain and rinse the sweetcorn, grate the cheese.
Warm the olive oil in a pan, then gently cook the pepper and spring onions for a couple of minutes until starting to soften. Take off the heat and add the grated carrot and sweetcorn.
Break the eggs into a large bowl and whisk until frothy. Add all of the vegetables and the grated cheese to the eggs. Stir until combined.
Spoon the mixture into the cupcake cases. Bake in the preheated oven for 25 minutes until cooked through and golden.
Leave to cool in the tin for a few minutes before serving warm. Alternatively, cool completely and pack them up to take on a picnic.