Rainbow Fruit Skewers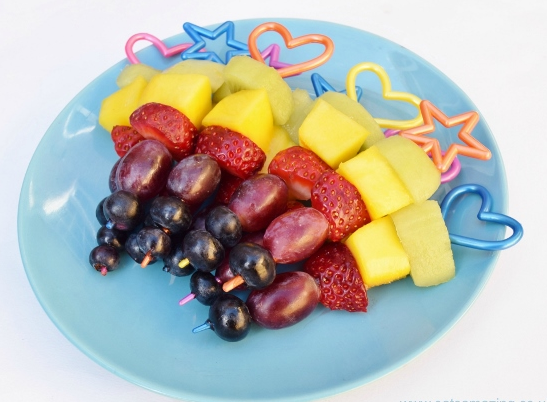 Rainbow Fruit Skewers
​Ingredients
1 kiwi fruit (peeled and chopped)
½ mango (peeled and chopped)
strawberries
red grapes
blueberries
Method
Wash the strawberries, grapes and blueberries in cold water and pat dry.
Cut the tops off the strawberries and discard.
If the strawberries are big, cut them in half or into large chunks. Cut the grapes in half if wanted.
Put all of the fruit into bowls.Arrange bowls by fruit colour in the order you wish to put them on the skewers.
Thread fruit onto skewers. Plastic skewers look great but bamboo skewers or even long cocktail stirrers would work too.
You can arrange the fruit in the same way for each skewer or mix them up – it's great to let your child decide.
Serve immediately and enjoy!