Rainbow Couscous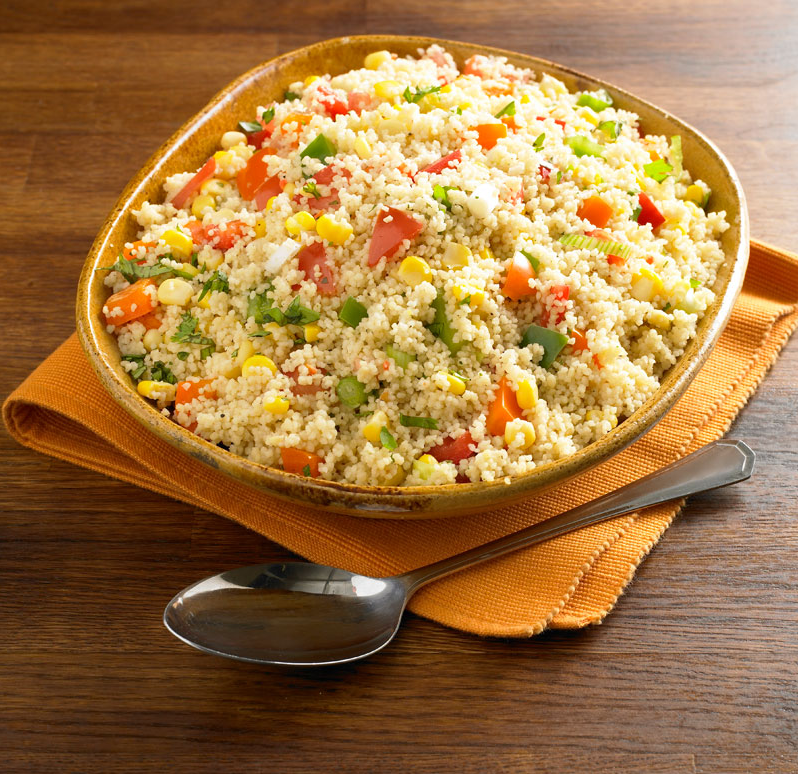 Ingredients (serves 4)
200g couscous
250 ml boiling water
1 red OR orange pepper
1 small green pepper
2 tomatoes
3–4 spring onions
200g can sweetcorn
Dressing:
10g (about a handful) fresh coriander OR parsley
1 clove garlic (optional)
1 small lemon (juice only)
2 x 15ml spoons olive oil
Black pepper (optional)
1 x 5ml spoon whole grain OR Dijon mustard (optional)
What you do…
Put the couscous in a bowl.
Measure 250ml of boiling water into the measuring jug.
Pour the hot water over the couscous and cover with the plate or tea towel. Leave to stand for 10 minutes.
Fluff the couscous with a fork. Add a little extra water if necessary. Allow to cool.
Wash and dry the vegetables.
De-seed the peppers and remove the core and any white pith. Chop into cubes (about 1½cm).
Chop the tomatoes into similar size pieces to the pepper.
Top and tail the spring onions and slice finely.
Drain the sweetcorn and discard the liquid.
Add the chopped peppers, tomatoes, spring onions and sweetcorn to the couscous and mix well with a fork.
Finely chop the parsley or coriander with scissors.
Peel and crush the garlic (if using). Grate the zest and squeeze the juice from the lemon.
Make the dressing by whisking the olive oil and lemon juice together in a small bowl (or shake together in a jar). Add the chopped coriander or parsley, crushed garlic and black pepper and mustard (if using). Whisk or shake again.
Pour the dressing over the couscous and mix well.