Kelly Holliday and Team Isla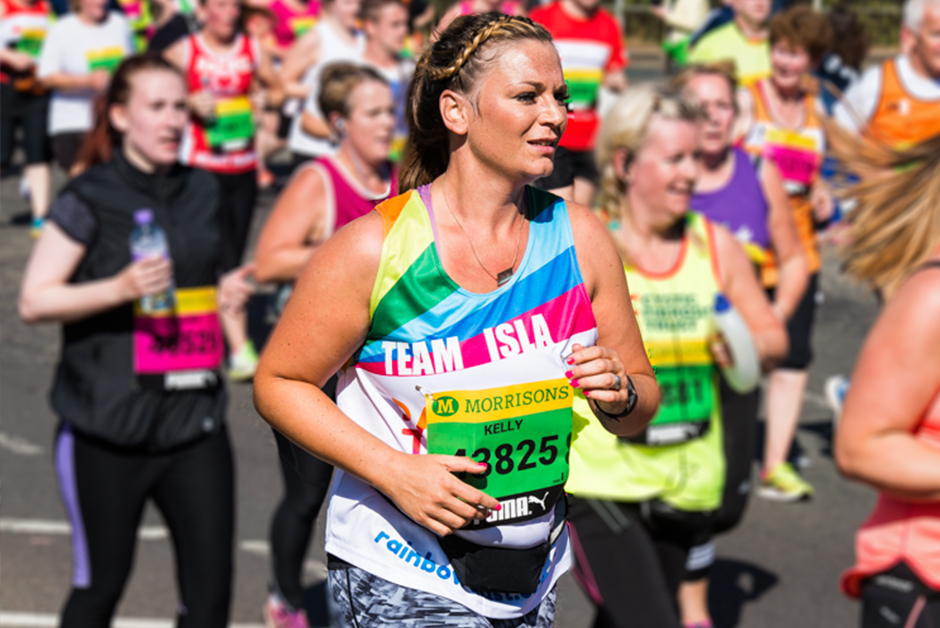 Here's our story…
Isla Holliday was just two months old when she was diagnosed with Schinzel-Giedion Syndrome. Her parents, Kelly and Phil, were told she would only live for two years. Isla in fact lived until four years old, making her one of the longest surviving children with this rare genetic disease. Rainbow Trust supported Isla's family from her diagnosis and will continue to do so for as long as they need us.
"Isla could smile but her condition severely restricted her mobility," says her mother, Kelly. "She couldn't walk or talk but she smiled and giggled when she was happy, which was most of the time."
"She needed 24/7 care," says Kelly. "I left my accountancy job and dedicated my life to ensuring that she had a normal childhood."
Rainbow Trust started supporting us
Rainbow Trust began supporting Kelly and her family in 2009. "I first met the family after they were referred to us by the children's community nurse," says Family Support Worker Marlene Shirley.
"Having me visit the family home gave Kelly the chance to talk about issues she couldn't discuss with her family because it was all too raw," says Marlene. "The emotional side of it was a big thing. While Rainbow Trust can't change a situation we do make it easier." Kelly says: "We were blessed that Isla shared our lives for as long as she did. She was such a massive part of our lives and having Rainbow Trust enabled us to always know their help and support was on hand whenever we needed it."
Isla's Fund, a marathon, Prom and Ball
Following Isla's death in November 2012, Kelly and Phil have been determined to raise funds for Rainbow Trust in their daughter's memory. They set up Isla's Fund; Kelly ran the Virgin London Marathon in 2013 and has hosted a Prom for children in her area as well as a Ball. In total the family has so far raised over an absolutely incredible £47,864.
Kelly says: "We received huge support from Rainbow Trust and now it's our turn to do what we can and raise funds to enable them to continue their amazing work, supporting families on both a practical and emotional level. Taking on the challenge of a marathon training regime has made me even more determined to succeed and to raise as much money as we can for a charity that is so very personal to us."
Throughout Isla's life and death I could trust our Family Support Worker to be there to help us.