Meet Zayd and his family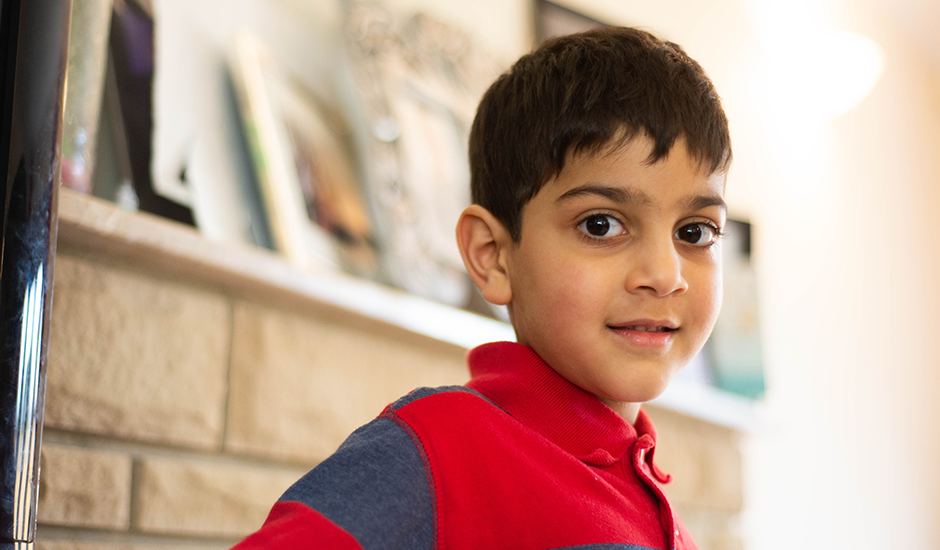 Zayd was diagnosed with leukaemia just after his second birthday and underwent three gruelling years of treatment which left him temporarily bed-bound and unable to talk.
Zayd's mum, Banin, had to change his nasal feed every eight hours and administer water syringes throughout the day to prevent dehydration. Her husband worked away from home and, with no immediate family nearby and two other young children to care for, the pressure of Zayd's illness took its toll on Banin's mental health.
"We had no one. Zayd's illness felt like we were at war. I was very upset about not getting any statutory support. We made our concerns extremely clear. I told them 'I'm going to have a nervous breakdown'."
Family Support Worker Sabrina started supporting the whole family shortly after diagnosis after meeting them at a Rainbow Trust sibling support drop-in group at the hospital.
"After spending the whole day in the hospital, I was so mentally drained and exhausted. All you want to do when you get home is fall into bed and pretend the day didn't happen, so to have someone sort out the children was such a relief.
"We couldn't have got through it without Sabrina. Without her, Zayd's brother Hamza would be in therapy and both he and his sister Safina would have felt so neglected. She made them feel special again. She took Hamza for a bike ride which he was so excited about because we couldn't go outside with Zayd. These things are so simple, but they made such a difference to me and my mental health."
Sabrina helped improve Banin's mental health in various ways. She reduced her concern about Hamza
by helping him through one-to-one sessions and group activities and speaking to him about his emotions.
Sabrina helped to reduce the practical burdens on Banin such as taking and collecting Hamza and Safina to and from school and cooking the evening meal when Banin was in hospital with Zayd. She also provided respite by spending time with Zayd so Banin could relax with her other children, have a shower, do the chores or simply have a rest. Finally, Sabrina has helped Banin advocate for support for Zayd before he started school.
Please donate today, so we can continue to support more families, like Zayd's.