Meet Reggie and his family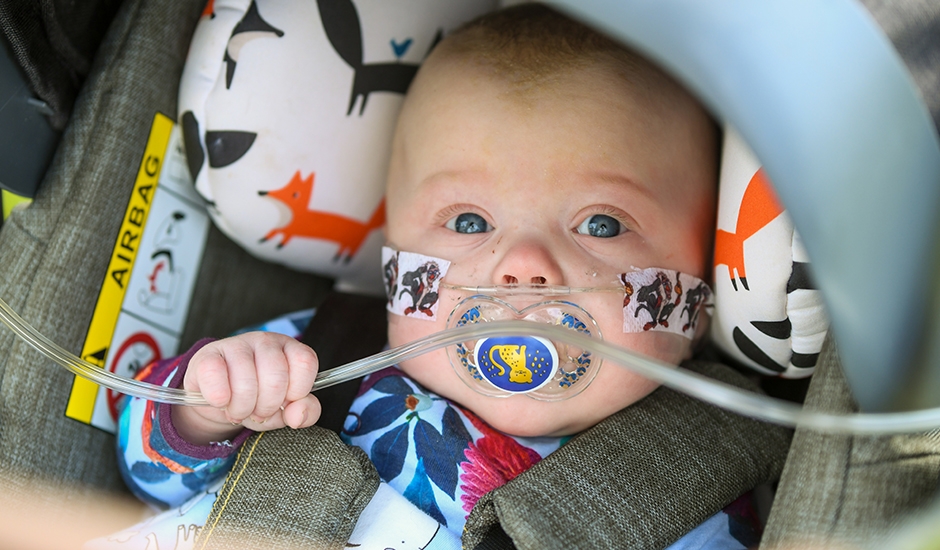 Reggie was born prematurely at just 26 weeks on 26 November 2020 at the University Hospital Southampton.
The first 13 weeks of his life were spent in the Princess Anne neonatal intensive care unit (NICU) at the hospital whilst Mum, Kate, and Dad, Matt, attempted to juggle Matt's work, coping with a tiny premature baby with very complex needs, and caring for Reggie's five other siblings at home.
At birth Reggie was diagnosed with several abnormalities including sepsis, two collapsed lungs, a hole in his heart, chronic lung disease, bone disease and five auto pockets on the brain which has caused brain damage.
Kate said:
"It was such a stressful time which was made much worse as we felt like part time parents; constantly split between our children at home and little Reggie in hospital. In those early days we didn't know whether he would survive so didn't want to miss a moment of spending time with him. Reggie's brothers and sisters range in age from one to 12-years-old and very much need their parents too. It was a huge relief to be introduced to Rainbow Trust by the hospital. We were put in touch with Sammii who is now our wonderful Rainbow Trust Family Support Worker. Reggie's siblings took to her straight away and even though Covid restrictions at the time meant that after the initial meeting they only met her via Zoom, her calls were always a highlight for them."
After over three months in the Princess Anne NICU Reggie was able to come home on 2 March 2021. His home coming was met with delight by the whole family, but the joy went hand in hand with a large dose of worry. Reggie required full time oxygen at home and no longer having the full-time support of the NICU staff was daunting and Reggie's siblings also caused concern.
Kate said:
"As amazing as it was for Reggie to come home, we were worried about how our other five children would adapt – not only did they have a new baby brother which brings its own challenges, they had one with very complex needs. Having Sammii as our Family Support Worker has helped our family immeasurably. I know we would not have coped so well and our lives would have been significantly harder hit were it not for Sammii. All the children look forward to seeing her and her visits are a real highlight. I would like to say a huge thank you to Rainbow Trust for making all our lives that bit easier."
Please donate today, so we can continue to support more families, like Reggie's.