Meet Phoebe and Rory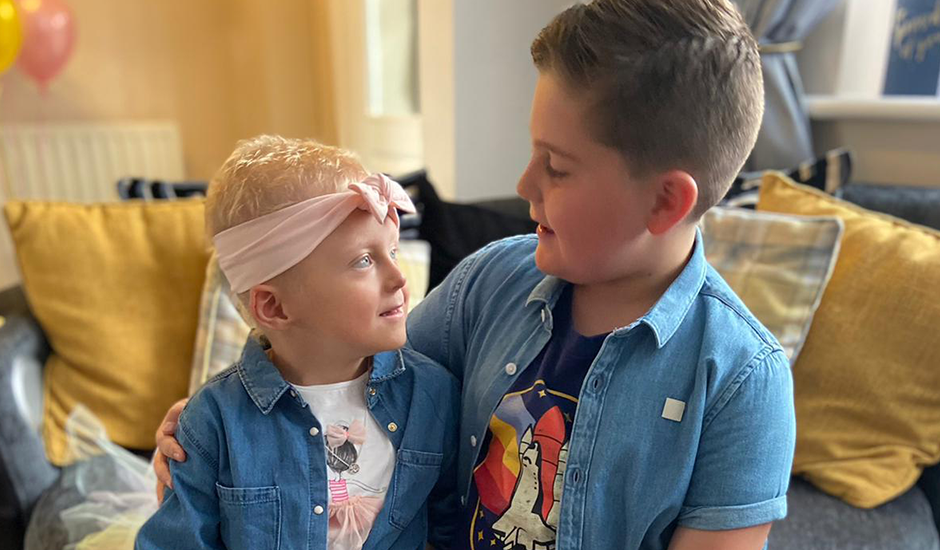 Phoebe's mum, Katie, first discovered that Phoebe was not well in February 2020 when Phoebe was two and a half years old.
She had been sick in the night and was just not herself when Katie found a big lump on the right side of Phoebe's tummy. Katie and Matt, Phoebe's dad, took her to Bristol Children's Hospital where staff were unsure about the cause, so they did a scan.
After the scan she was rushed for an ultrasound and, at that point, Katie and Matt knew something wasn't right. They were very worried and concerned that Phoebe's condition was clearly very serious.
They were both very emotional and had lots of unanswered questions. The surgeon arrived and told them that Phoebe had a tumour. They were left feeling scared, hurt and angry. One of the nurses helped to comfort them. Katie felt as through she has completely shut down and held Phoebe in her arms, not knowing what to do.

Phoebe has an eight-year-old brother, Rory, and Matt and Katie were worried about how he would cope, how they would explain that Phoebe was ill and that they had to be away from him for a whole week.
Katie and Matt were in hospital with Phoebe initially for seven days. She had MRI scans, CT scans, blood tests, a Hickman line fitted and her first dose of chemotherapy to shrink the tumour in that first week. They went back home for two days, and then back to hospital for the next dose of chemotherapy, which would continue weekly.
Phoebe had a stage two Wilms' tumour (cancer found in the kidney) and had an MRI scan to check if the tumour had shrunk. As it had reduced significantly, on 24 March, four days after last year's first national lockdown started, Phoebe went back to hospital to have her kidney removed.
Due to lockdown only one parent could be there, and they juggled this between them. One week after the operation Phoebe was back on chemotherapy for 27 weeks, a double dose at hospital and a single dose at home, administered by a nurse.
The uncertainty that all of this brought to Katie and Matt was devastating. Katie was not coping well with her own mental health, confused about how to feel and process everything.
They were drained and exhausted.
A CLIC Sargent team at the hospital referred them to Rainbow Trust for sibling support and Family Support Worker Wendy started supporting Rory in April 2020. Katie and Matt were concerned that everything going on with Phoebe would affect him and that he wouldn't open up. But Katie told us:
"Wendy's presence and personality has had a huge impact on both kids. Rory is very quiet, but Wendy brings him out of his shell. The energy Wendy has with them is effortless and some days we can hang back and enjoy watching them have fun with Wendy."
Katie and Matt have a very supportive wider family, but they found Phoebe's illness had an effect on many relationships and friendships. Katie lost touch with a very close friend because they couldn't deal with Phoebe's illness. This has also had a detrimental effect on Katie's emotional wellbeing, so Wendy has been giving her emotional support. Katie says:
"Wendy always has time to listen and, although she supports the whole family, somehow she manages to support us all individually."
Phoebe finished her treatment in October and rang the bell at Bristol Children's Hospital to celebrate, a joyful moment for Phoebe's family and hospital staff.
Wendy has continued supporting the family with some face-to-face visits in late October, art activities for Halloween with both Rory and Phoebe, taking Rory to the cinema in half-term and also introducing him to another sibling she supports.
Throughout the changing Government guidance, Wendy has adapted the way she supports the whole family. They have enjoyed going out for walks, scavenger hunts, singing, doing quizzes, doorstep delivery of Christmas gifts, virtual calls including reading stories and anything else the family may need. Katie says:
"We embraced Wendy's support; there is no need to be alone. You may have initial concerns that you may not connect but once you do you feel like the weight has been lifted. Life without Wendy would have been so much harder."
Please donate today, so we can continue to support more families, like Phoebe's.