Meet Poppy and her family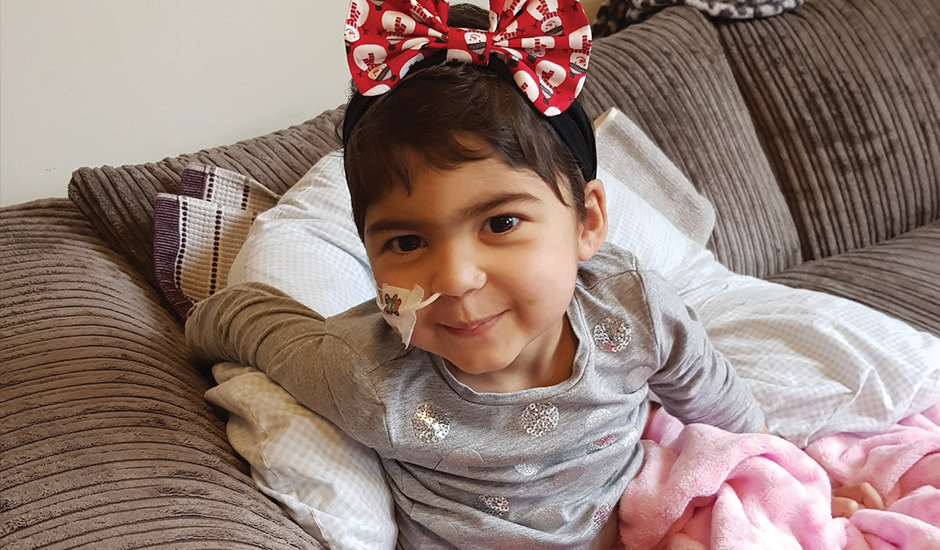 Poppy was two when she was diagnosed with leukaemia on Valentine's Day 2017.
"From around her birthday in November, she had gone from being a child I couldn't keep in the pushchair, who wanted to explore and was very lively to being a child who just wanted to sit under a duvet and watch DVDs," remembers Vicky.
Blood tests revealed an abnormality in Poppy's blood and she was rushed to hospital. "That night was awful," says Vicky. Once in the hospital nurses and doctors tried to put a cannula in her arm to start treatment but she screamed and kicked out as she was terrified and looked to Simon and I to make the hurting stop."
She was transferred to Great Ormond Street Hospital the next day,
"We were shown into a room on the oncology ward. I unfolded my bed and I knew it was bad. Doctors came in and told me that they had found leukaemia in Poppy's blood and they'd be starting chemotherapy that day," says Vicky, "My head was screaming but I had to focus and listen to what doctors were telling me."
Treatment started immediately and Poppy was in hospital for weeks, she barely moved and when she was finally discharged, she couldn't walk.
"She'd spent so long in bed not using her muscles that they'd wasted away and she'd forgotten how to walk. We did physio with her in hospital and at home. I borrowed a baby walker from a friend and she used it like a Zimmer frame – she was so proud of herself when she could actually move around again," said Vicky.
"We saw her determination that day and knew she was going to fight this every step of the way."
"While trying to adjust to the weekly visits to Great Ormond Street Hospital, we caught cabs to and from the hospital – it cost £130 for each round trip. I started looking around to see if I could access any emotional support for myself, Simon and Mia as I could see she was struggling too. I'd been away from her for seven weeks; Simon was dropping her off at someone's house for breakfast as he had just started a new job and I was with Poppy. After a few weeks, the novelty of being with different people had worn off and she just wanted her family back together again. Our social worker put us in touch with Rainbow Trust Children's Charity and Nicki started visiting soon after.
Meeting Nicki, our Family Support Worker
Having Nicki to help made life so much easier – it didn't take long to feel comfortable with her, Poppy adores her – we all love having her here. The days that Nicki takes us to the hospital, Poppy feels less stressed, I am calmer and I know I can leave her with Nicki and I'm not just leaving her alone in her bed while I go off and try and eat something because Poppy's always nil by mouth and crying out for food."
Poppy's hospital appointments often start at 8am and she and Vicky can be there till six in the evening. Nicki takes the pair up to the hospital and spends the whole day with them. "I pick Poppy and Vicky up at 6am and take them up to London for Poppy's lumbar puncture at 8am. It's a very long day so I stay with them all day. I spend time with Poppy so that Vicky can speak to consultants without having to worry about keeping Poppy occupied. It also means that Vicky can take a break while I sit with Poppy," said Nicki.
"I can't even let myself think about what it'd be like without Nicki's support. She's made our lives so much easier, the girls adore her and I feel so much calmer knowing she is there to help us. She has helped all of us and I'd recommend Rainbow Trust to anyone who needed them," said Vicky.
Please donate today, so we can continue to support more families, like Poppy's.