Meet Joseph and his family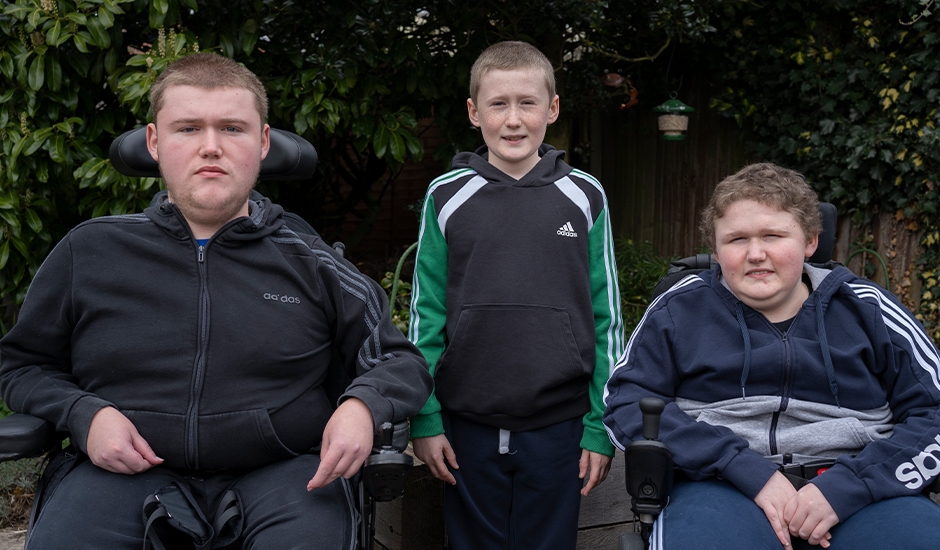 Emma has three sons, and two of them have Duchenne muscular dystrophy requiring round-the-clock care. Emma responded to our survey in March 2021 about the COVID-19 pandemic and how it impacted her family. This is her story.
Emma, said:
"As a family we have been shielding for almost an entire year now and this last lockdown has been so much harder for all of us. I have three boys who are all home schooling, living on top of each other in bungalow.
"My two oldest sons, Matthew 18 and Joseph 15, are in wheelchairs and have Duchenne muscular dystrophy and Matthew also has autism, so it can be hard for him to understand the situation which can make him very demanding. During the summer lockdown we all spent time out in the garden but this lockdown we have struggled because the weather has been so bad. There is no escape for any of us at the moment.
"My husband Simon and I have been caring for Matthew and Joseph full time and we haven't been able to have our usual carer in the house because we felt the risk of catching Covid was too high. Our only break is two nights a week when we have a carer to help Matthew overnight as he can wake up to five times needing care.
"Simon took voluntary redundancy in October but it's been challenging for him being at home all the time and with no real purpose after previously travelling up to London every day.
"My greatest concern is about one of us catching Covid. Simon is yet to have his first vaccine and I'm not sure when my nine-year-old son Oliver will return to school. I worry about Oliver's mental health because he really misses school, his friends and all his usual sporting activities and yet at the same time he's terrified about catching Covid and passing it onto his brothers. It is a lot for him to cope with on his young shoulders.
"We have had help from Rainbow Trust throughout the pandemic. Our Family Support Worker Abi has been great, dropping off activities for the boys and shopping for us when we needed it. Rainbow Trust organised virtual activities which Oliver enjoyed including junk modelling and a talent contest – which he won for his dancing!
"When restrictions allowed, we went for a local walk with Abi and she spent time in the garden chatting with the boys. Just having her there on the end of the phone for a chat when we are struggling has been a real help."

Please donate today, so we can continue to support more families, like Joseph's.