Meet Jackson and his family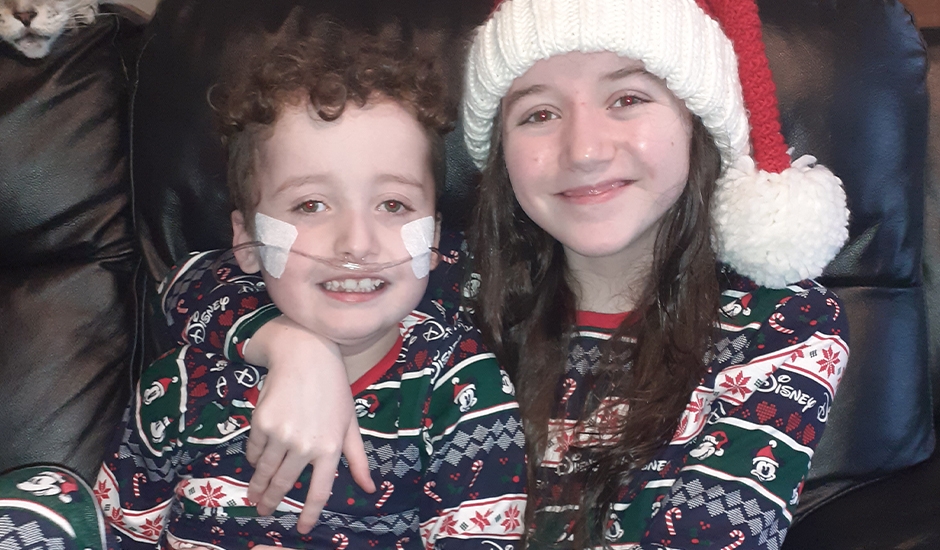 Life for Jackson's family changed completely, when he started to have difficulty breathing and feeding at just three weeks old.
Jackson was admitted into the Royal Victoria Infirmary in Newcastle for numerous treatments and countless tests to see what the cause of his illness was.
On top of this, came financial worries, stress and of course the guilt of having to take away a lot of attention from his older sister, Erin, who had become very withdrawn and would be inconsolable at times.
In 2016, almost a year after Jackson was born the family was referred to Rainbow Trust for support.
Rainbow Trust helped Jackson inside hospital allowing parents Debbie and James to have time just for Erin, whether this be just for a chat or to take her somewhere special. During this time, both parents felt comfortable leaving Jackson knowing he was with someone they trusted.
Rainbow Trust also started to take Erin out after school and during school holiday times which again proved valuable not only for her parents to have time with Jackson, but also time for Erin to have something and someone to herself. This gave her a time where she could discuss her feelings and worries, without feeling like she was adding to family stress, and a time where she could be herself outside of the 'big sister' role.
At present, Jackson is still undiagnosed. He is non-verbal but can communicate with sounds and facial expressions. He is now mobile and can walk within his house. He is on oxygen 24 hours a day and on parenteral (intravenous) feed.
Jackson suffers numerous episodes of daily apnoea and can sometimes need his heart massaged during evening sleeps as his brain shuts down.
Some weeks Rainbow Trust will help by sitting with Jackson while his parent's do housework and daily jobs which cannot be done while alone with him as he needs supervised 24/7. Family Support Workers have also helped Debbie attend her University Course while supervising Jackson within the University while she attended her course.
Erin's family believe she has benefited from the support of Rainbow Trust. As you can imagine, Erin has seen and heard things that no child should have to, and it really impacted upon her emotional wellbeing.
Erin feels comfortable with her Family Support Worker and opens up to her in the car journeys and outings that she attends. She always states that it's easier to speak to someone else, as she's worried it would make her parents sad if she spoke to them.
During the pandemic, although all families were restricted, Erin and her family were hugely impacted as James was stuck offshore. Debbie couldn't leave the house at all with Jackson, so there were no outdoor walks or 'alone time' with either child.
Rainbow Trust set up online sibling zoom groups which Erin participated in and loved every minute. She took part in quizzes, competitions and got to know other siblings online. Rainbow Trust also provided a great art and crafts pack for Erin while she was in isolation which she used to create many pictures and even some slime.
As the restrictions eased, Family Support Worker Jaimie took Erin to the beach, and this was the first time she had been out in three months. The excitement and smile on her face said it all! Erin can be carefree when on our outings and allows herself to relax and be a 12-year-old.
Family Support Worker Jaimie is always available for mum Debbie to call when she needs a chat and that extra emotional support. Debbie has always said that Rainbow Trust is the most constant organisation that has been there for her family and is always full of praise.
Please donate today, so we can continue to support more families, like Jackson's.