Meet Oliver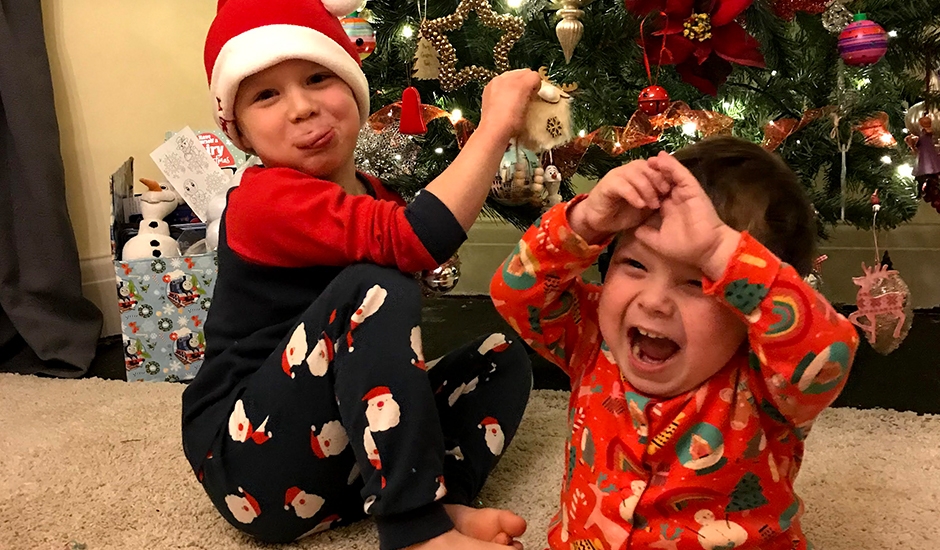 Oliver was born at his local hospital in Cumbria and was immediately rushed to Royal Manchester Children's Hospital (RMCH) to have emergency surgery at just one day old. He had some major internal organ abnormalities and needed a colostomy, an operation to divert one end of the intestine through an opening in his tummy.

He spent four weeks in Newborn Intensive Care (NICU) while doctors figured out what was wrong. Those first four weeks in NICU were utterly overwhelming for Oliver's mum, Holly, and dad, Dominic.
"We were completely consumed, overwhelmed and in shock."
Oliver was diagnosed with a rare condition where you have a collection of birth defects called VACTERL. Each letter stands for a different area where a defect can be present and Oliver has five of the seven defects.
The most complex treatment is for his life-threatening kidney disease. His renal team kept him off haemodialysis (a procedure where the blood is pumped into a machine that filters it before being returned to the body) for two years, with an ever-changing combination of medicines, special feeds, tube feeding and fluid management, and now they work tirelessly to ensure that Oliver remains stable on haemodialysis and getting him ready for a kidney transplant.
Oliver spent the majority of his first year being admitted to either the local hospital or RMCH, with numerous urine infections, for various operations and scary sepsis episodes, which resulted in him being in intensive care. Oliver nearly died of sepsis.
"There are no words to describe the feeling of utter helplessness watching the doctors work on your baby, not knowing if he is going to pull through."
When Holly, Dominic and Oliver are not in hospital they have numerous outpatient appointments, travelling back and forth to Manchester - a four hour round trip - to see his long list of consultants. They also travel to RMCH three times a week for Oliver's haemodialysis.
Dealing with all of this has broken Holly at times and her mental health is still fragile but she understands her triggers and coping mechanisms now.
Marlene has been their Family Support Worker for three years now and she has become another pair of hands the whole family can rely upon making a huge difference to their day-to-day lives. Holly says:
"It really is a combination of lots of things that makes the difference. There are all the practical things like transport; taking my six-year-old son Thomas and Oliver to the park or providing activities to help Thomas deal with everything that's going on. But for me, it's the hard to describe, intangible things Marlene does that make the most difference, especially to my own mental wellbeing. I will try and explain…
"Being able to talk openly and honestly to Marlene gives me an 'outlet' – a way of venting and processing everything. It's so easy to talk to Marlene. I don't have to think about what I'm saying, which is great because I am exhausted from the overload of information that comes with having a medically complex child. I feel I can say anything without having to explain myself or hide my emotions, in a way I might not with family because it can get quite upsetting at times.
"I can use medical jargon without having to explain it, and Marlene understands the full and hidden significance of what I am saying. For example, when I say 'surgery', or 'intensive care', she understands all the emotion and grief that sits behind those words: the sickening worry, the risks, the time in Parents Accommodation, being away from Thomas, the logistics, bureaucracy, and admin involved, and the helplessness you feel waiting for news.
"And it's not just the bad times that Marlene understands. She gets the overwhelming pride and joy of watching Oliver achieve his milestones. No matter how small they may seem to an outsider, she knows how much it has taken Oliver to get there and is rooting for him every step of the way. She understands the outlook we now have on life; cherishing family moments, no matter how small, as we now know the overwhelming importance of each and every second.
"Marlene's empathy and thoughtfulness make her a great listener and she has so much knowledge from working with other families like ours. This, together with her really positive attitude, means she can help with practically anything, giving us really wise and reassuring advice.
"The most significant practical thing Marlene has supported us with is hospital transport. Dominic and I were both struggling to balance our part time jobs, getting Thomas to and from school and driving to Manchester three times a week. This was exacerbated by the pandemic as a lot of our support stopped. Rainbow Trust put the relevant COVID-19 measures in place and Marlene started to take us to Manchester once a week. This has made a difference not only on a practical level, but also a financial and emotional level. I use my car journeys with Marlene to chat or to catch up on sleep! I'm nowhere near as exhausted as I was and we all have the energy to spend some quality time together as a family."
Now that Thomas is six he understands more and finds it unfair that his little brother must spend so much time at hospital. Marlene provides sibling support to Thomas, who also needs dedicated time and attention.
To some of the families we support the help of a Family Support Worker is a lifeline.
Thank you for anything you can do to help Rainbow Trust and other families like Oliver's.

Please donate to Rainbow Trust today, so we can continue to support families like Oliver's in desperate need this Christmas.