Meet Hadley and her family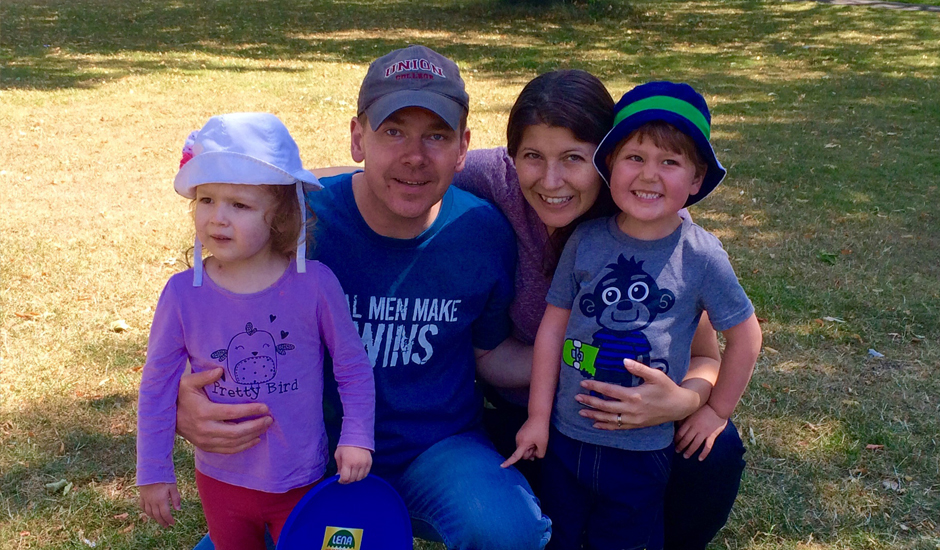 Hadley, my two year old, had been ill on and off for months and when I look back now, I wish I had made the doctors do a blood test. Ben, her twin brother, got sick but recovered quite quickly. Hadley was diagnosed with a double ear infection in December 2014 and had it for a long time. The doctors gave her antibiotics and the infection went away briefly, but she never seemed right.
I made an appointment with the GP to talk about Hadley's constipation and luckily the GP was alert and suspected there was something more serious going on. She told me to take Hadley to the hospital for some blood tests and an X-Ray. Tests revealed that Hadley had leukaemia. I felt scared for her and what she would have to go through but I was convinced she would survive. I couldn't even think she wouldn't. Her prognosis was good and I clung to that.
I was struggling to manage two small children and it was only going to get worse so I knew we needed help. I wasn't in a good place – I felt buried and on edge. We contacted Rainbow Trust and a whole team arrived to offer us support and Mandy, a Surrey based Family Support Worker, started supporting us. Mandy stepped in and helped take us to hospital appointments - it was a stabiliser for us. There was no judgement with Mandy, just understanding. When she couldn't drive us due to other commitments, Cliff, a Rainbow Trust volunteer driver, would take us to the hospital and wait for us. He was such a kind man and we knew that we were in safe hands.
Mandy provided me with companionship which was so nice. I was in a foreign country with no network of friends for support. It was good to have someone to help me navigate through things like the NHS or tell me how things worked. Having her there also meant I could go get a coffee or take a break, which is so hard to do in the hospital. It was peace of mind for me. I already felt different because I'm not connected to anyone but having Mandy made me feel like I was part of a group and there were others like me - I felt less alone.
Hadley was in treatment for two years and Mandy was with us every step of the way. Hadley is on her last year of treatment now and will be in remission at the end of it. She still has hospital appointments and Mandy helps out with those - it feels good knowing I can rely on her when we need her.
Hadley and Ben started school in September and they are both loving it. Hadley is on Maintenance treatment now and doing really well. She still has hospital appointments and Mandy helps out with those. It is so good knowing I can rely on her when we need her. I would definitely recommend Rainbow Trust to anyone who needed them. There is no reason not to – they've made a big difference to our lives and we are very grateful to Mandy for that.