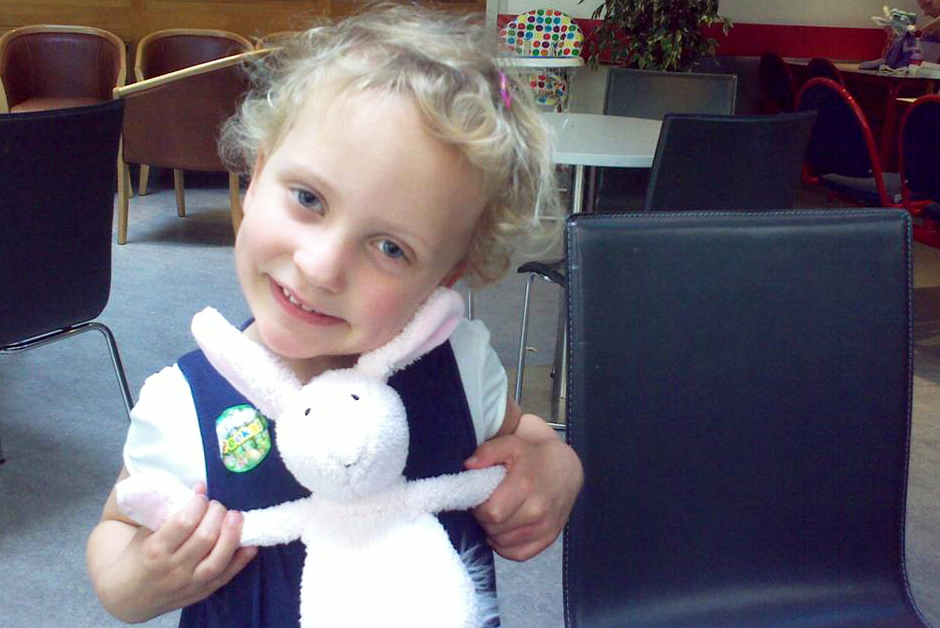 A day following a child supported by us
The Todds live in Surrey and have three children; Aidan, Petra and Rowan who is eight years old.
Mum, Beth, is an opera singer and Dad is a composer. Both are self-employed and without the support of Rainbow Trust, Beth would be doing hospital trips on her own, and on occasion, with all three children.
Rowan was diagnosed in 2009 with a brain tumour. She underwent 18 months of chemotherapy and lost all of her hair. Side effects of the treatment include visual impairment, which makes walking, reading and playing for a four year old difficult.
Rowan is totally clued up about her treatment, she talks about her tumour, asks the doctors and nurses exactly what they are doing and why. This brave little girl does her own nose and mouth swabs and knows what she is allergic to.
A day at GOSH…
Rowan explained that she was having an MRI scan, which she had to do regularly to see if her tumour had grown or not – she let me stay with her when her wiggly was attached and showed me where the medicine goes to make her sleep for her MRI. She was poked, prodded, injected and assessed – and not once did she cry or complain. She knows the name of every nurse, play specialist and doctor and she has a smile for every one of them.
While Rowan was under anaesthetic for her MRI, Beth and I chatted about not being able to make long-term plans for the family, not knowing when she will be able to go back to work, and how Rowan's treatment is impacting on the siblings. Beth talked about the diagnosis, the overwhelming amount of information and her lack of understanding of all the medical terms in the beginning. She would go home and Google every word she didn't know.
When Rowan came round, like an old pro who gets knocked out every day, her request was for Hula Hoops and Ribena. This delicate little four-year-old, on a stretcher in the recovery room, hooked up to heart monitor, was surrounded by nurses with a Hula Hoop on each finger!
Following the MRI, it was time for chemo. Her toy monkey, Murray, is with her at all times. Another set of nurses, another set of drugs in the wiggly and another set of bloods taken. And there she sits quietly, this pint-sized hero of mine, whilst I do my best not to turn away and lose it completely.
With chemo done, we head home. It took two hours to get Beth and Rowan back to Guildford and it was 9.30pm when we left, an exhausting day for all.
I am inspired by this brave little girl who broke my heart and mended it again all in one day and I am full of admiration for Janet, who has endless patience for and understanding of both Beth and Rowan.
As of winter 2013, Rowan's tumour has not decreased and she has undergone more treatment.