Meet James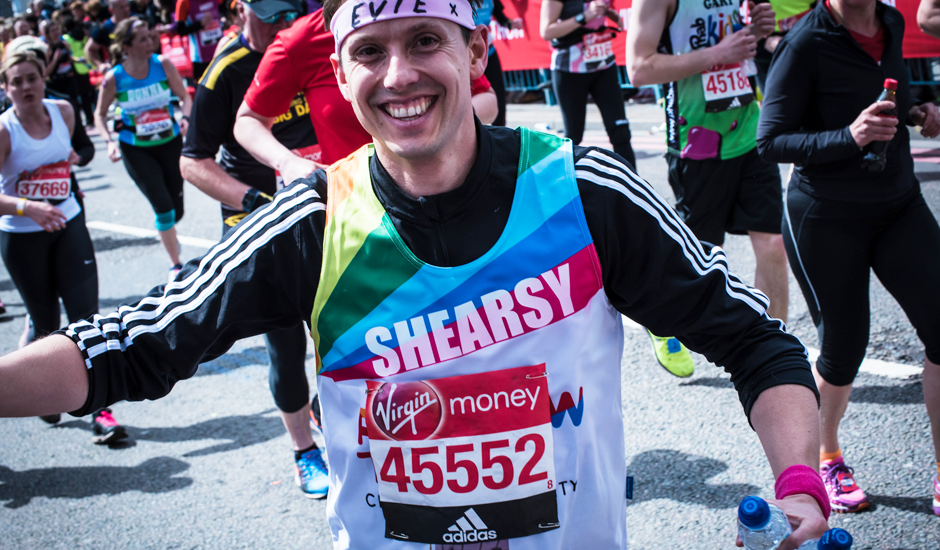 On Sunday 24 April 2016, James from Surrey, joined our team of 53 runners and ran the Virgin Money London Marathon for his daughter, Evie, who was born with cerebral palsy and retinoblastoma (cancer of the eyes).
"When Evie was in Great Ormond Street hospital suffering the most horrific seizures, for hours on end, watching her helplessly was horrific. A doctor commented that for Evie, every seizure was like running a marathon. I decided to run this marathon for my girl for my Evie, because I want to do something to make her proud of me, to make my wife proud and I knew if that little girl could run marathon after marathon for 10 days, in that hospital bed….I can do it for one day."
"Rainbow Trust offers an amazing service; supporting families any way they can. Lyn was able to drive Aimey (my wife) and Evie to appointments when I had to work, Lyn brought us round fish pie when we were too exhausted to cook and has been there from the very start until this very day. Rainbow Trust are the friend you call on without delay. We wanted to give something back so they can continue to offer the rainbow of support to other families in the way they did for mine."
James is no stranger to a challenge and has also taken part in the Yorkshire 3 Peaks Event for the past 6 years. The run, organised through his place of work, is a gruelling 24.5 mile course across 3 of Yorkshires highest peaks and on average takes a team of four 7hrs to complete. Together they raise vital funds for different charities every year.
After deciding to take on the London Marathon, James got to work training for the big event.
"During my first training session I decided to test how far I could run before my body told me to stop. I managed 15miles which I was impressed with, but with this, came several bad injuries that stayed with me throughout the rest of my training and the marathon itself. Note to self: always follow a training programme and build up gradually. If there is a next time I will make sure I prepare properly."
At first, James was dubious that he would meet his target, but the support he received was amazing. Together, James and his wife, Aimey, took to social media to promote their fundraising and within weeks, the target was not only met, but exceeded which is a massive achievement.
"Both friends and family members contributed generously and within a week we had hit the target amount. The donations didn't stop there, people continued to donate post-race and at present we have raised £4,288. This just shows how influential Evie really was; she touched so many people's lives. I'm one very proud Daddy."
James said the support offered before, during and after the event was fantastic and that the communication from the Sports and Challenges Team at Rainbow Trust really helped with what to expect on the day and how best to prepare before the event.
"The support on Tower Bridge was just brilliant. The marathon can be a lonely place at times and just seeing the Rainbow Trust team throughout the run offering support as you pass by really does spur you on. I also got a massage which really helped my recovery! "
"A massive thank you for all the support you have provided for me and my little family over the past few years. On behalf of Aimey, Evie and me, thank you."
We are so proud and thankful to have supporters like James – and would like to thank him and his family for all their support. Inspired to take on your own challenge? See how you can get involved and be a fundraising star.
You may also like
"If I ever got really sick, I would like to have people like you, to help my family."

READ MORE

Katie and her team of Netball Mums took part in a 12-hour sponsored netball match.

READ MORE