Danielle and John climb Kilimanjaro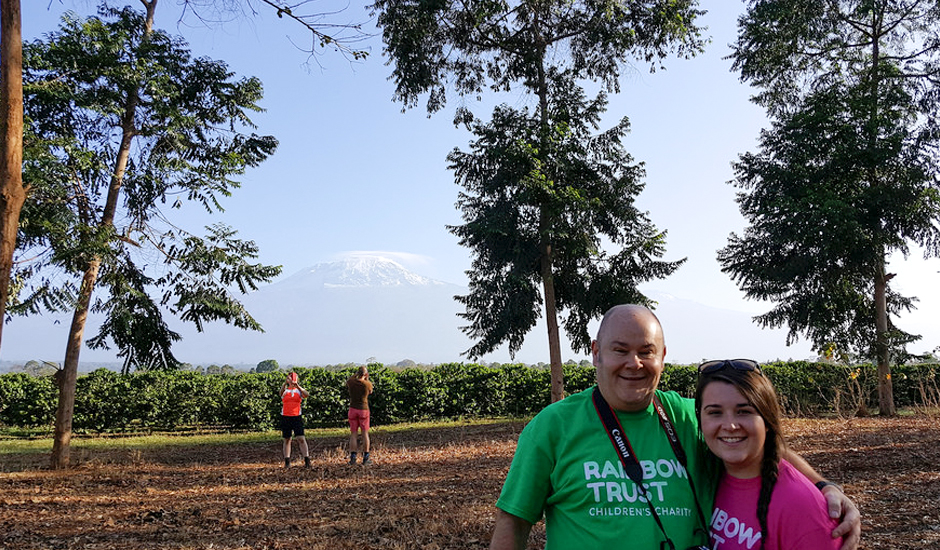 Father and daughter, John (51) and Danielle (22) from Buckinghamshire, climbed Kilimanjaro in 2017. Here's what they had to say about their challenge climbing Africa's highest peak.
Climbing Kilimanjaro is something my Dad has always wanted to do
I am so glad he persuaded me to go with him! When looking for a charity to raise money for we wanted to find one where we knew the money we would raise would be able to make a significant difference. I work as a Children's Nurse and work with children with terminal and life-threatening illnesses so can see what a difference charities like Rainbow Trust make to children and their families. Rainbow Trust provide endless help and support to a large number of families and hopefully with the money we have raised can continue to do this for a few more
We had lots of support from friends and family
We set up a Virgin Giving Page and posted lots on social media. My dad also held an auction evening at his Bucks Property Meet two days before we left for Kilimanjaro and we have pledges for £9,000.
Training for the climb
We had various trips to Wales – climbed Snowdon and Brecon Beacons and other mountains in and around Wales – we did as much hiking as we could – mainly to test the kit out and getting to grips with back-to-back hiking.
Reaching the summit
We felt a massive sense of accomplishment – the perfect end to days of hiking and sleeping in tents – each day the mountain threw something different at us. Undertaking the climb together was special – so many memories. After walking for 6 days we were all very ready to reach the top, the summit night was very long and tough but we all managed to get to Uhuru Peak and enjoy the sunrise which was great. It was very cold so we couldn't stay up there for too long but the views were beautiful and it is something we will never forget!
The experience is amazing – the sense of achievement and the enjoyment each day is to be savoured – this is a life changing event and will push you to the limits – often more mentally than physically – but the rewards will be with you for a lifetime.
Being part of Team Rainbow Trust
The support from Rainbow Trust has been great, they have provided us with lots of encouragement and materials to help us with fundraising. Rainbow Trust were also able to see how we were getting on through social media etc. whilst we were climbing and once we reached the top.
If you want to give Kilimanjaro a go
Look up 'Mountains in Mind' and talk to Darren - he will provide you with all the info and support you need. He works with a great company in Tanzania called Ashanti Tours, the porters and guides are brilliant and very supportive.
If you are looking at supporting Rainbow Trust then definitely do it, the work they do is so valuable and they need as much support as they can to continue to help the large number of children and families that they already support. They will provide you with anything you need to help with fundraising - materials, information etc.
Our top tips
• Be specific which route you take – the main reason apart from being completely unfit individuals don't summit is they try to climb Kilimanjaro too quick – many routes up may seem faster – but the chance of being hit by altitude sickness increase dramatically – we took the Machame Route – this was tough but the extra day helped
• Take advice on using Diamox – this can help with AMS
• Take lots of snacks for the porters and drink as much water as you can
• Invest in some good clothing and walking gear as you can never really predict the weather
Feeling inspired to take on a new challenge? Click here to find out more or get in touch.