Meet Pola and her family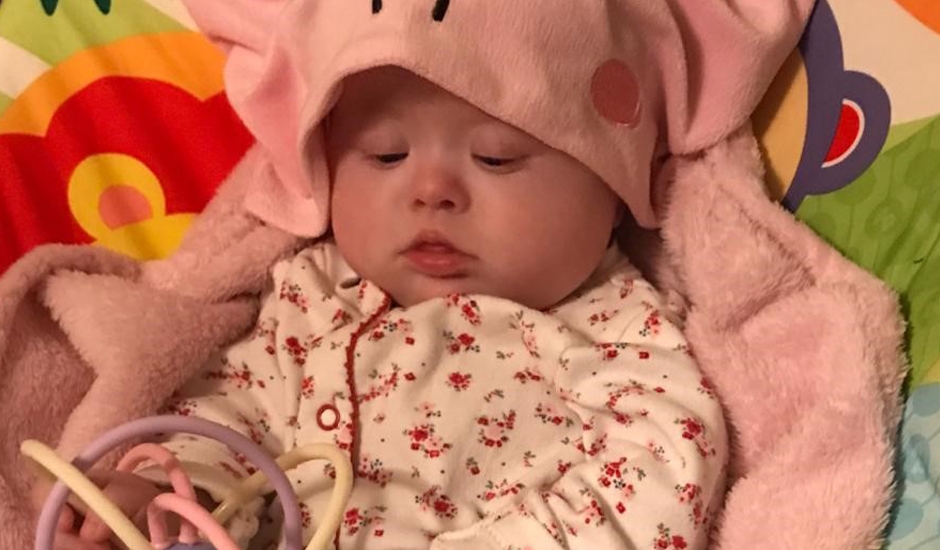 Olena's seven-month-old daughter, Pola, was born in June 2021 with Downs syndrome and a hole in her heart. The cardiac condition, called atrioventricular septal defect (AVSD), had been diagnosed when Olena was five months pregnant.
Olena and her partner Michael were told that Pola would need surgery once she was six months old to repair the heart. They were referred to Rainbow Trust by St. Peter's Hospital in Burnley and then Pola was treated in Alder Hey Hospital in January for life saving heart surgery.
The family wanted to share her story to help raise awareness of Rainbow Trust's expansion into Liverpool and to encourage local families with a life-threatened or terminally ill child to reach out to Rainbow Trust if they need help.

Olena said:
"Pola's heart did not have the barrier that hearts need to have so all the blood was mixing and not pumping correctly around her body.
"On 17 January Pola's operation was scheduled at Alder Hey to mend the hole in her heart. The surgery was at 9am. As she was put to sleep, we gave her a kiss and were told the operation would take six hours. But by 5pm after hearing nothing we were told the doctor wanted to speak to us.
"The doctor explained the operation had been very complicated and Pola had had difficulty breathing because of pulmonary consolidation, meaning there was some blood in her lungs. She had to spend ten days in intensive care, initially with an open chest and on breathing machines. It was incredibly hard.
"On 27 January she opened her eyes – it was amazing and we cried constantly with joy. Gradually she became stronger and the tubes were taken out of her belly and step by step she was getting better."
Since September 2021 the family has been supported by their Rainbow Trust Family Support Worker, Brodie, after being referred for help from the hospital.
Olena said:
"I think I would have gone crazy without Brodie! At first, she helped me with travel to the hospital, but her support became so much more than just picking me up and dropping me off. I could ask her advice, I could speak openly with her and share all my worries. Over time we became more and more comfortable with Brodie and now she feels like a part of the family.
"When we were in hospital Brodie would accompany me on the ward as only one parent was allowed because of COVID-19. I was sleeping at the hospital and only swapping with Michael so that I could eat meals. It was exhausting and having Brodie was such a support."
Pola was finally well enough to come home on 3 February, her mum said:
"As we opened the front door carrying Pola, Michael and I looked at each other and started crying with happiness and relief. We were so thankful that we were coming home with our baby.
"We love Pola so much and throughout it all Michael and I have always tried to keep positive and Brodie has been such a help.
"I think any family should not be scared to ask for support, it is not shameful to show that you need extra help. For us, Rainbow Trust have given us more strength so we can be strong for our baby."

Please donate today, so we can continue to support more families, like Pola's.