Please donate now to our Summer Appeal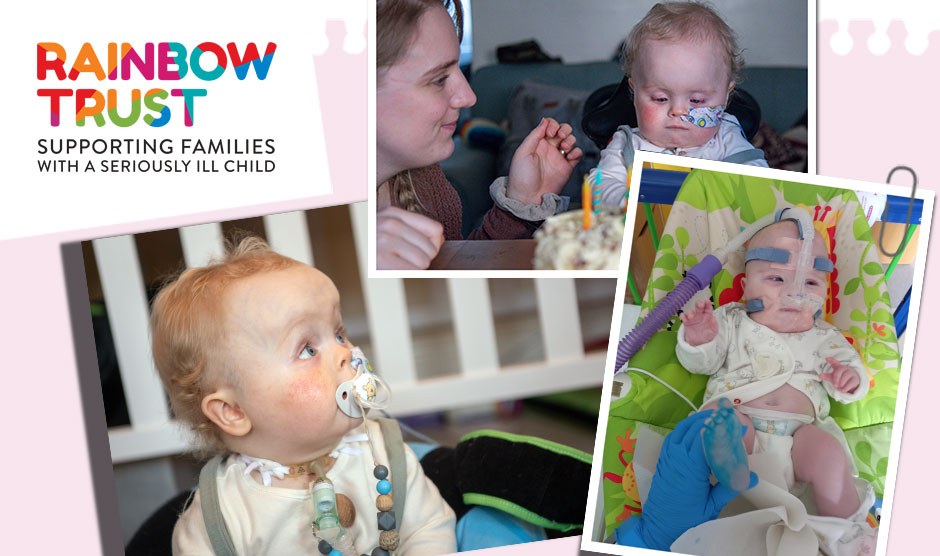 Thousands of families like Jack's need our support today, but we cannot do it without your help.
Meet Jack
Specialists found that Jack was born with a combination of severe conditions, including a hole in his heart, a rare defect in an artery to his heart, and severe breathing difficulties. This has put the entire family under enormous pressure.
Jack needed specialist trachea and heart surgery when he was only nine weeks old. Jack was at Newcastle's Freeman Hospital for two months and at the Royal Victoria Infirmary for six months before his mum and dad could take him home to Cumbria. And then he only spent one week at home before going back to hospital for a further six weeks. Jack was finally discharged in January this year, after having an additional heart procedure when he was 11 months old.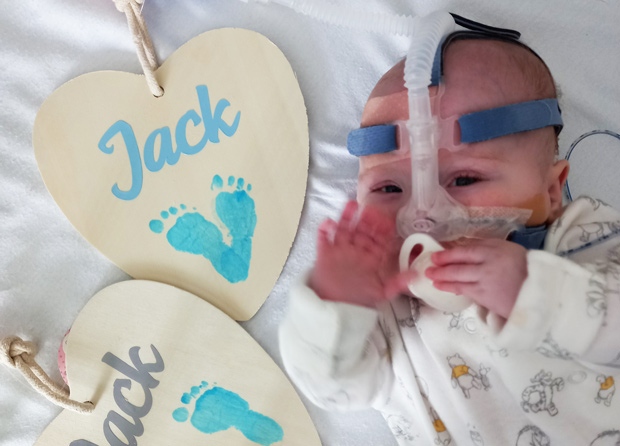 Meet Jack's mum Clare and family
During all this time Clare and her husband Matthew did everything they could to spend time with Jack and with his now three-year-old brother, Daniel. Due to COVID restrictions Daniel wasn't allowed to visit Jack in hospital, and Clare and Matthew took it in turns to be with him.

Having your seven-week-old son admitted to hospital and, after two weeks of tests and examinations to know exactly what is wrong with him, being told that his condition is so severe that doctors can only talk about palliative care is devastating. Seeing your nine-week-old baby going to theatre for major surgery is heart-breaking. And having to leave your older son at home, arrange childcare and then having to stop work so both your children have a parent with them can be incredibly overwhelming and stressful.
Jack's mum Clare had to take three months unpaid leave at the end of her maternity leave, and then had to resign while waiting for support from a care organisation and carers allowance. Clare lost her income entirely. And like many of the families we support, family finances are difficult. For families such as Clare's the whole situation is unsustainable and the entire family may experience trauma and stress.
"I honestly don't know what life would have been like without the help of the Rainbow Trust Family Support Workers - Monica on the hospital ward and Sophie now at home.
"Jack needs care 24 hours a day and I have no social care support at the moment, except for Sophie."
"The impact of their help is far greater than the number of hours a week that we see them. My family now has a special connection with both Monica and Sophie, we have confidence in them, we trust them."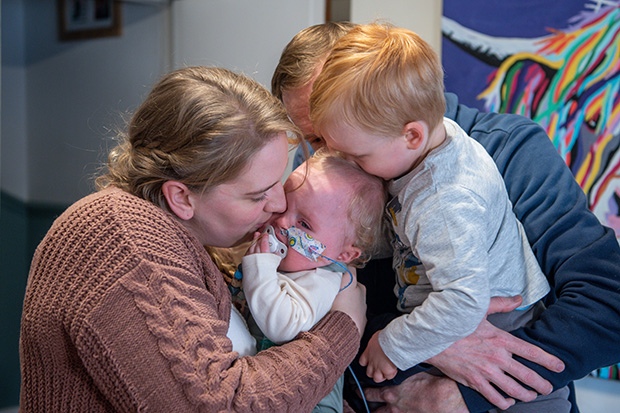 How Monica and Sophie from Rainbow Trust helped
Whilst Jack was at the Freeman Hospital, Rainbow Trust Family Support Worker Monica from the North East Care team started supporting Clare's family on the ward, mainly looking after Jack while either Clare or Matthew spent some time away from the ward to get some rest, to spend time together, or to spend time with Daniel. Monica also listened to Clare. Having somebody to talk to, especially when you spend weeks, and months, on a hospital ward is invaluable. Having an expert professional listening and providing some comfort could be the key to helping maintain your mental health and your ability to cope with the situation.

When Jack was discharged and went back home to Cumbria, Rainbow Trust Family Support Worker Sophie based in the North West Care team took over from Monica and started supporting them. Clare and Matthew felt that Daniel had to be the main focus of Rainbow Trust's support so Sophie focuses her support on him. She does also provide some emotional and practical support to Clare.
Sophie has weekly one-to-one sessions with Jack's brother Daniel, so he feels important and supported. They play games at home or in the park, enabling Daniel to run, to let steam off and enjoy himself and also to have special time with Sophie, who is there just for him.
"Sophie focuses mainly on Daniel, who has had no social interaction with other children for so long due to lockdowns. Having Sophie visiting him once a week helps with his ability to make friends and build relationships now and in the future."

"Sophie brings things to play with for Daniel, she organises activities, does painting and crafts, and takes him to the park to play, run and be a regular little boy. Daniel gets upset when I leave the house, he wonders if I will come back in an hour or be away for days. Sophie helps Daniel learn to cope."

"Sophie provides emotional support to me as well. I don't really have a lot of time to connect with people so seeing Sophie is really helpful. With Sophie I can talk about everything and, to be brutally honest, it is nice to talk about non-medical things. It is nice and really beneficial to talk to another adult that I can depend on."
Sponsor a Family Support Worker today:
Please donate today
Many families are coping completely alone, struggling to look after their seriously ill child without any help, attending numerous hospital appointments each week, staying in hospital for weeks on end and also looking after their other children, taking them to and from school. They are without the emotional support that is needed when they are going through such ordeal.
This is why Rainbow Trust helps families with a seriously ill child, giving specialist emotional and practical care and support free of charge to them.
We hope you are able to support us today so we can continue helping more families with a seriously ill child.