Meet Azaan and his family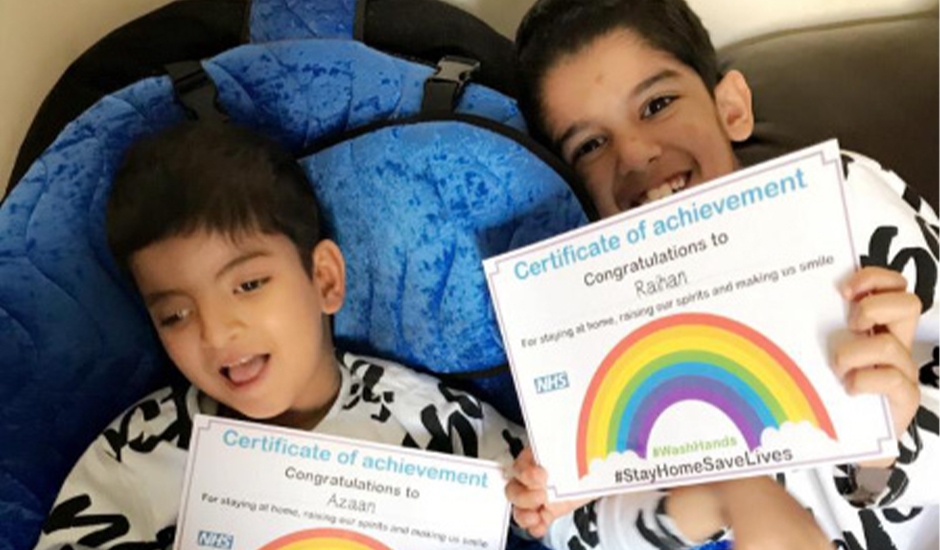 Asia's family was referred to Rainbow Trust in March, at the very beginning of lockdown. All other external support that they received completely stopped, and that is where Family Support Worker, Wendy, stepped in to help them to cope.
Azaan is my cute, cheeky and humorous boy who turned four during lockdown. He has a severe form of Joubert's syndrome - a rare disorder that affects the brain, causing different degrees of physical, mental and visual impairments. Azaan has developmental delay, low muscle tone, respiratory issues, polycystic kidney disease, is non-verbal and visually impaired. He can't hold his head up, is fed via a pump, sleeps about four hours a night and needs looking after 24 hours a day.
Azaan was on oxygen 24/7 when he was a baby but we managed to wean him off it by the age of five months old. As he grows, after months and months of hospital admissions - 11 back to back in 2019 - it has become clear that his condition is worsening. He can't be without oxygen when he has a cold or an infection. We have been to resuscitation, we have had emergency admissions and 2019 was a scary year when Azaan's breathing was a struggle. With constant pneumonia and chest infections, with a permanent partially collapsed lung, Azaan is now still waiting for an operation that was postponed due to lockdown to remove his tonsils and adenoids to help with his breathing.
Since I became a full time carer, I have lost my identity.
I have lost friends, I have lost my past way of life. My job, my career goals, my dreams, they all had to be forgotten. I don't have a social life nor any time to relax and unwind anymore.
Before lockdown, Azaan attended a nursery which gave me some time to catch up on some sleep and other jobs. But all the external support stopped during lockdown, and I found day-to-day life both mentally and physically draining.
I also have a nine-year old son, Raihan, who needs attention from me, and I was worried about the effect lockdown would have on him. Even before coronavirus, it was difficult to take Raihan out because Azaan has serious special needs and he is in and out of hospital a lot. Lockdown made everything worse. Thankfully, we were referred to Rainbow Trust and had an assessment in person just before lockdown started.
Raihan needs fresh air, to run about, to enjoy time to be a child, to play, to be just a boy and I can't always give him that so Wendy, our Family Support Worker from Rainbow Trust, started supporting us in April, at the height of the pandemic.
Wendy introduced herself to Raihan by video call, and they went on to have weekly video calls which involved playing games, story reading as well as general chats. We got a wonderful surprise one day when Wendy knocked on the door with a box full of games, chocolate eggs and arts and crafts packs so Raihan could get creative and have something different to do.
All of this started to make a difference to him throughout the following months, and just after lockdown was eased Raihan went to the park with Wendy for a socially distanced ride on his new bike.
They have now been to the park several times, out for pizza and burgers and bought ice cream from the van – all things that a regular nine-year-old would do. Most of my time is spent looking after Azaan and, unfortunately Raihan has had to grow up pretty quickly. Like most children with siblings who have complex needs he is left on his own a lot. This is where Wendy steps in and helps out: by taking Raihan outdoors or play activities indoors, whatever he chooses.
Raihan loves Wendy and looks forward to spending time with her. Wendy is friendly and kind, very flexible and easy to talk to. Azaan has also really warmed to hearing Wendy's voice - when he listens to her reading stories he seems very happy, with his eyes opened wide, which means he is excited.
For Raihan not only is it nice to have somebody different to play games with but now that he meets Wendy in person he is opening up and has started talking about his feelings. This is invaluable as he sees me being busy with Azaan all the time. Raihan also needs dedicated attention, time to feel special and Wendy is giving him that.
Wendy has been a big, positive change to my life. I know that Raihan has somebody he trusts and that he is enjoying both his time with her and happy trips out. I can see that he is becoming a happier boy, and all of us feel relaxed and comfortable with Wendy.
It hasn't been easy, it is a lonely journey, a journey where most moments I live in fear and depression but with the help from Wendy we keep going.

Please donate today, so we can continue to support more families, like Azaan's.