Emily and Gracie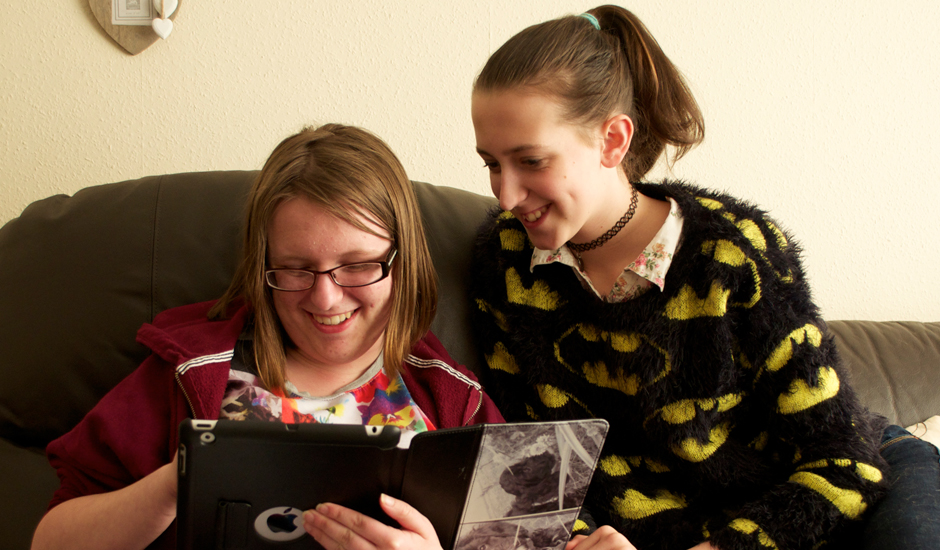 Thirteen year old Gracie doesn't have a normal life, her sixteen year old sister has a brain illness which affects every aspect of her functioning. If she isn't falling over, she is choking as she struggles to swallow so the home is full of worry and concern for Emily's safety. For Gracie, she can't talk to her friends about what she's going through as none of them understand but she can talk to the children in the Rainbow Trust Children's Charity Siblings Groups that are run in Swindon. Here she can mix with other children who are in a similar situation, they can talk about what they are going through.
For Gracie, it's been, "hard, an emotional rollercoaster but with Rainbow Trust's help, it's been easier. The sibling groups take me away from home and Emily's illness. It takes my mind off things." This respite is what the sibling groups aim to achieve. For the siblings of sick children, doing all the regular and usual things that other families do, is paramount. They want to feel normal because for them, home life is anything but normal, what with hospital appointments, health scares and not being able to do things that the sick child can do.
Jayne Abbot, one of our Swindon based Family Support Workers, spends time with Gracie talking about Emily's illness. She doesn't feel she can talk to her school friends about it as she doesn't want to burden her friends so talking to Jayne allows her to share what might be bothering her. Jayne also takes Gracie out with Emily to the park in the summer or brings arts and crafts to their home where they can enjoy being creative together.
"My mum and dad try to accommodate me. They worry about me and try and get me out if Emily is upset or angry." Her parents can see how Emily's illness impacts on Gracie and they do their best to help and are very grateful to Rainbow Trust and Jayne's support in this regard.
"Jayne treats my family like a normal family, other people feel awkward but Jayne makes us feel normal," and this seems to be what so many siblings of sick children want, they just want to be normal.