As long as families need us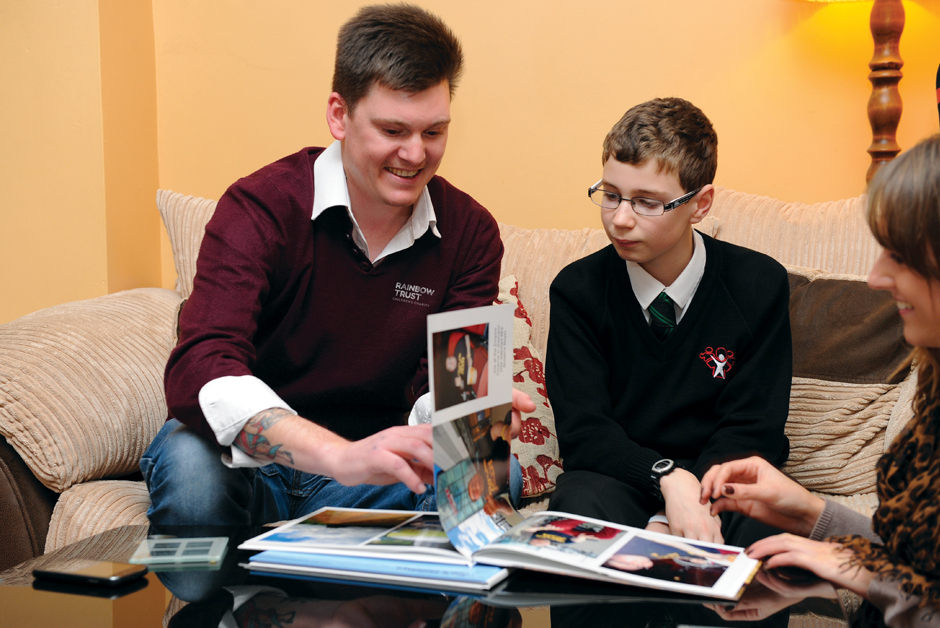 In 2007, nine-year-old Joe began feeling queasy in the mornings, so his mum took him to the doctor. A brain scan showed that Joe had a large tumour right in the middle of his brain. He was immediately referred to the hospital in Oxford where surgeons removed most of it.
Joe underwent months of radiotherapy and chemotherapy. He missed almost all of Year 5 at school. Treatment was successful and he was given the all clear. He went back to school and was well for a while.
But in the summer of 2012, Joe started complaining of a 'numb bum' when he sat down. A routine scan showed that the cancer had returned, this time in his spine, hence the numbness.
In October 2013 he lost his mobility, but despite not being able to walk he managed to continue to go to school until May the following year. Once he was unable to go to school Joe was stuck at home so the family was referred to Rainbow Trust for extra help and someone to keep him company.
Family Support Worker Chris, from our Swindon team, was introduced to the family and started supporting them. "Chris gave Joe something to look forward to," says Sue, Joe's mum.
Joe wanted to capture the moments they shared so Chris created a special photo book about Joe's adventures and outings with him.
"I think Joe enjoyed doing that …it meant that especially at the end of the journey, they were able to finish it off. Adam, Joe's younger brother, could be involved too." says Sue.
Joe managed to see the finished album before he died, aged 16.
Most support services leave a family when their child dies, but Rainbow Trust supports the family for as long as they need us. We are one of the only organisations that support families through bereavement and beyond.
"Chris had that connection with Joe so when he comes back, we can remember Joe," says Matt, Joe's dad. Without him, "The first couple of weeks … would have been even more difficult. It meant we knew that he was going to come and see Adam and that if Adam wanted to talk, he would talk to Chris. I didn't have to worry about getting somebody for Adam to talk to. It just took that worry away," smiles Sue.