Rowan's story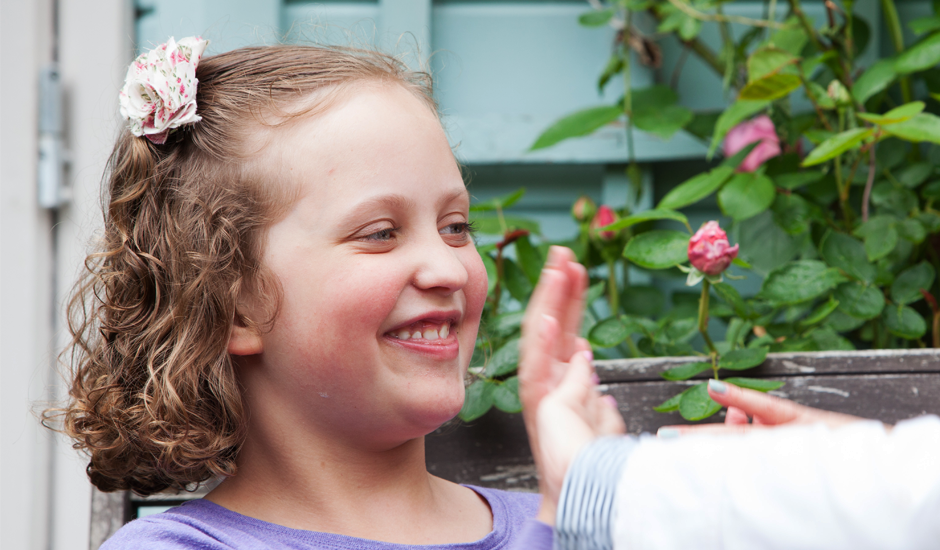 Rowan Todd lives in Surrey with her brother, sister, mum and dad. In 2009 Rowan was diagnosed with Neurofibromatosis (NF1) and an associated brain tumour on her optic nerve. She underwent an intense 18 month course of chemotherapy. Sadly, a side effect of the treatment is visual impairment so now, 9 year old Rowan, is having to learn to use a cane when she walks.
Surrey Family Support Worker Janet, has been supporting Rowan and her family for the past six years with transport to her many hospital appointments, tests and treatment. Over the last few years, Rowan has relapsed and the family has pulled together to get her through it.
Unfortunately, at the end of 2013, Beth noticed that Rowan's eyesight was deteriorating and took her back to the doctor who confirmed that the tumour, "looked different." She underwent more treatment earlier this year but sadly, a side effect of the new treatment means her eyesight will only get worse. Rowan doesn't like her white stick and prefers to hold her mum or Janet's hands when walking. While the chemotherapy aims to destroy the cancer, it also weakens the bones and Rowan fell and broke three vertebrae in her back. She was on pain relief and was forced to use a wheel chair more often which she is not comfortable in. Rowan was very sad when she lost her hair again but her lovely curls have grown back.
In March 2015, Rowan had her final dose of chemotherapy so Beth and Will organised an 'End of Treatment party' with all of her friends. Unfortunately, at the party, Rowan fell over and broke three bones in her hand. While her hand was healing, she was unable to read Braille, which she found really difficult as she loves reading.
Two weeks after her party the family were rallying round to get Rowan fit and back to normality when Beth noticed that she had a lump on her foot and was finding walking very painful. A scan revealed she had another tumour. Doctors decided to operate to remover the tumour as, while they couldn't guarantee that the operation would improve her mobility or reduce the pain, without it, it would certainly get worse. Thankfully she didn't require any chemotherapy after the operation.
Rowan spent three months over the summer in a wheelchair and the family had to cancel their holiday to Greece which they were all so looking forward to. Rowan needed a hospital bed downstairs so that she wouldn't have to keep climbing the stairs but this meant that the family lost their living room. As always, they pushed through.
Rowan is now using a walking frame to get around as she is slowly able to bare some weight on her foot and can also side step around the outside of rooms and shuffles on her bottom down the stairs. She also has some very funky red boots that fit her foot and protect it while it heals and the best thing about them is, she can wear them to school too.
Owing to Rowan's year of treatment, a local hospital put her name down with Dreamflight, a UK charity that takes children with a serious illness or disability, without their parents, on the holiday of a lifetime to Orlando, Florida. Rowan and 150 other children have been chosen for this trip and Rowan is so looking forward to this great adventure.
If anyone deserves this, Rowan does. She has spent more than half her life in hospitals and in treatment, she has missed out on so much and after such a long and difficult journey, it's great to see her being offered such a wonderful opportunity.
Beth says: "It's Rowan's tenth birthday on Christmas Eve so I am sure she will start planning for her birthday and Christmas but this year, we are planning on hunkering down and enjoying an uneventful Christmas with minimal stress and no medical appointments. That will be bliss."