Meet the Robinson family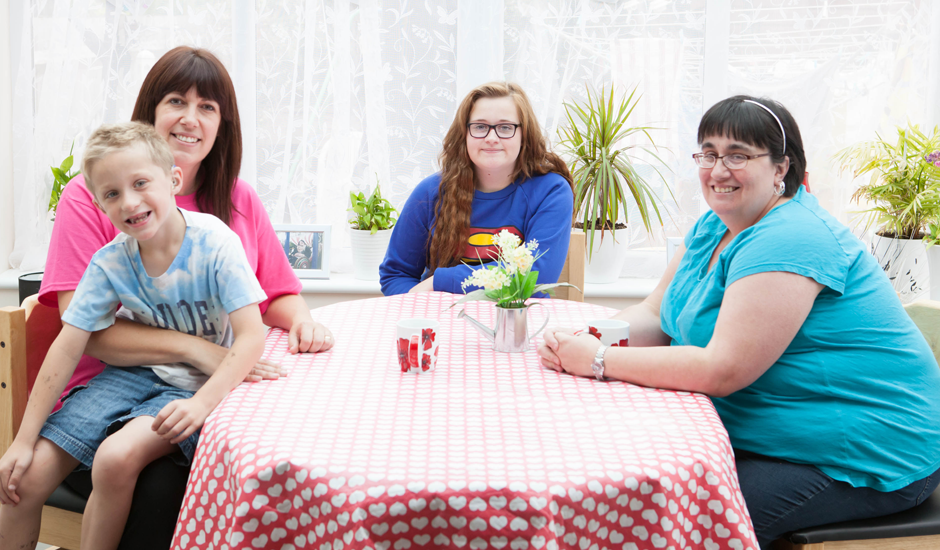 Four year old Jack and Liam, his twin brother, started school in September 2013 when they were four years old. They were eager to learn and explore. In January the school called to say that Jack had fallen asleep in class and asked Marie, his mum, to come and collect him. The next day when he was resting on the sofa, she went over to wake him up. He didn't move, his left pupil was larger than usual and he was struggling to breathe. He was rushed to the hospital and days later, Jack was tragically diagnosed with a brain tumour. He spent weeks in the hospital and his parents were told that there was little doctors could do for him. His mum and dad took him home to be with his family.
Marie's story, Jack and Liam's mum
When the doctors told us there was little they could do for Jack, we spent time at a local children's hospice where we heard about Rainbow Trust Children's Charity. At that point, I had hit rock bottom and I needed someone to talk to. The hospice staff contacted Rainbow Trust on my behalf and a few hours later, Dawn, a Family Support Worker from Rainbow Trust, called and arranged her first visit. I was a bit hesitant at first as we are quite a private family but since Jack's diagnosis, it had been a whirlwind and I needed help. We didn't know what the future held and I felt we'd need as much support as possible.
Dawn visited two or three times a week and, initially, came to play with Liam, Jack's twin brother. I was worried about him as I had spent so much time away from him being in the hospital with Jack. Even now when I think about it, I feel so desperately guilty about leaving him but Jack needed me more. I couldn't have left him in the hospital attached to tubes and machines all by himself.
Dawn became Liam's first port of call. She took him out and spent time with him doing things that he enjoyed which gave me some much needed respite. Dawn worked hard to make sure Liam was comfortable with what was happening and spent time helping Liam create a Memory Box in which he has things that remind him of his brother. She was in constant contact with us, on the phone or visiting us.
I was in hospital for seven weeks with Jack and in that time, Danielle, my 22 year old daughter, took on the role of mum in the house.
When I came home, it did cause some upset as I tried to step back into my role as mum. Dawn acted as a mediator and helped us bridge the gap. Having someone else around us thinking 'like a mum' helped take some of the pressure off me as I was worried about how my other kids were dealing with Jack's diagnosis.
Jack died just after midnight on 1 April. I called Dawn in the morning and she came over and spent the day with us. She came to his funeral and sat next to Liam in case he needed to leave the service. She has been with us ever since. It's over a year since Jack died and Dawn has been invaluable. Other charities leave after the child dies but Dawn never left – the hurt will never go away so having Dawn stay with us has been so special to us.
Danielle has two other sisters, Christina (20) and Nathalie (16) and Dawn has spent time with each of them. I know they worry about talking to me and how I might react as I have been deeply depressed and my emotions have been all over the place. Having Dawn around meant there was someone they could talk to about how they felt.
I spent a lot of time talking to Dawn about Jack's funeral, about what I wanted to do for him. I wanted to go into a recording studio and sing Ellie Goulding's, "How long will I love you?" and have it played at Jacks' funeral but not tell anyone it was me. Dawn and my husband were the only two to hear it as I knew I would get an honest opinion from Dawn as I trusted her so much.
I suffered from depression after Jack died and when I went back to work five months later, I was not in a good place.
Dawn could see that I was struggling as she knew me - we had built up a strong relationship and she knew I was finding life difficult. She told me I needed to get some help, which I knew but wouldn't have done anything about it. Dawn actually came to the doctor with me and helped explain how I was feeling and what she had seen of me. It was a relief to have someone like that with me because I wouldn't have done anything about it, I would have carried on regardless. I wouldn't normally listen to anyone outside of my family but I trust Dawn – she's offered advice and guidance and has made me see things differently.
My husband is one of those men who doesn't want to talk to anyone about this but he talks to Dawn and he appreciates having that outlet. There are things we can't say to each other as we are so deep in grief so having that mechanism in place has been so helpful to us.
We've all built a relationship with her, we all know and trust her. I dread to think where we'd have been without her. I honestly don't think we'd all be together as a family if she hadn't been with us. She helped us stay together, she helped ease the tension that built up around us in our grief. Dawn was there for each and every one of us.
Having someone like Dawn, a Rainbow Trust Family Support Worker, gives you that normality – somebody you can talk to, listen to and who can offer some guidance.
Sometimes you can't say things to your partner or your children and some things you just don't know if you're doing right. Having someone there to say, "If that feels right to you, then it's right for you," it's like having someone on your shoulder guiding you but still allowing you to make your own decision.
We know it's not going to be easy going forward but we feel strong enough that we can now look forward. Jack will always be with us in Liam but I'm just so glad and grateful to have had someone here for all of us, thank you Dawn and thank you Rainbow Trust.
Molly Poole, was diagnosed with a brain tumour that had been there since she was eight months old.

Read Molly's story

"Ben Morris is a bright, engaging fourteen year old with a big smile. He loves talking about his friends..."

Read Ben's story